Shoe culture has taken over and kids these days are a lot more interested in what is on their feet. The best kids shoes need to be a strong mix of style and durability. Children want to wear shoes on their feet that make them feel good, but the shoes also must be tough enough to take the abuse kids will throw at them.
Best Kids Shoes
Kids feet grow fast. Kids shoes are always in a race between the child either wearing out or growing out of the shoe. Before spending a lot of money on kids shoes remember that children will grow out of their shoes in as little as eight months. Also do not forget that kids are not good at taking care of their shoes and they will rough them up quickly on the playground and drag their heels in and out when taking them on and off.
Kids shoes need to be the right size. Having shoes that are too small can inhibit foot growth and shoes that are too big can cause heel pain and blisters. Kids shoes need to be made from a breathable material with good air circulation. Did you know that children's feet sweat almost 3x as much as an adults foot? It is true, and that is another reason kids shoes break down so fast. Good shoes and socks that don't retain moisture are key.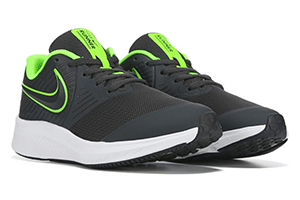 Nike is having a bit of a moment these days with all of the kids clamoring for a piece of the brand. The swoosh is making it easy with a full lineup of new products and a healthy catalog of old shoes being rereleased. These Kids Star Runner 2 represent a great balance between Nike technology and affordability so that parents can hopefully keep their kids happy. These are lightweight, breathable, high performance kids shoes.
This is one of the best kids shoes parents can buy with a rubber sole mounted on synthetic foam. The shoes have excellent traction. Reviewers also report that these shoes are very comfortable with a lot of cushioning provided by the soft foam midsole. The shoes are flexible but still provide good ankle support with added padding on the tongue and collar.
These shoes come in ten colorways based on availability with classic colorways for both boys and girls. The shoes have a plastic swoosh on the side that provides a great look. The lace ties provide good support to help kids lock in. These shoes fit as described so parents can shop with confidence.
Pros
Nike Style & Design
Rubber Traction Pads
Strong Support
Cons
Premium Price
Limited Colorways
Synthetic Foam Sole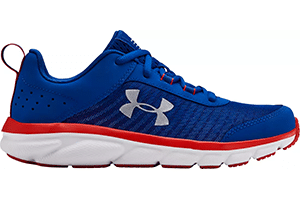 This is a top rated shoe with its lightweight design (just 6 oz) and breathable mesh upper. Kids can choose from 23 colors depending upon availability ranging from classic black to blue and red to fuschia. Leather overlays the mesh to improve stability and create a strong, durable exterior. The sockliner is made of EVA which gives it softness and a "rubber-like" flexibility.
This is a great shoe for growing children because of the solid rubber outsole. Kids are going to beat up their shoes and this sole can take a beating with strong rubber edges that are also helpful at repelling water. It also keeps these shoes lightweight without sacrificing durability. On these shoes the outsole is always colored white no matter what other colorful prints adorn the top and bottom of the shoe.
The colors on the shoes are deep and vibrant, making them very good looking. The white and red, Orange spark and Pinkadellic are some of our favorite colors. The shoe fits true to size (which is a must with kids shoes) so you can order with confidence. Reviewers report that these shoes break in nicely and hold up great. Under Armour also produces a Charged Pursuit shoe for young kids but this Assert 8 seems to hold up better over time.
Pros
Athletic Design
Solid Rubber Sole
Very Durable
Cons
Less Desirable Brand
Hard To Keep Clean
Limited Ankle Support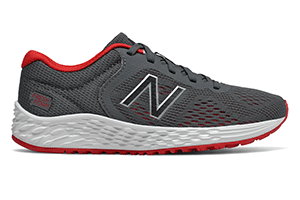 Foam sole shoes are all the rage these days but too often parents are sacrificing a lot of durability when moving away from rubber soles. Foam soles can often produce a flimsy shoe that is dangerous for young children's feet full of unfused bones. New Balance brings to market a good option for parents of children that want a stylish looking foam sole that is still rigid enough to support growing children.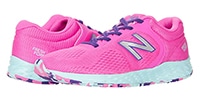 A thin rubber sole coats the very bottom of this shoe but most of the sole is made of foam. The big advantage of foam is that it makes a very lightweight shoe with this weighing in at just under 4 ounces. Foam also gives children a very cushioned ride, and in this shoe New Balance does a great job making it comfortable but still supportive.
The upper on this shoe is breathable mesh, and that is key with young sweaty feet. It provides good flexibility when taking the shoe on and off, plus the lace ties let kids lock their foot in tight. Style minded kids will like the prominent "N" logo and the foam soles. Lots of great colors are available ranging from traditional colors to bold color splash designs like Fusion, Peony, and Rainbow.
Pros
Supportive Fit
Comfortable Cushioned Ride
Lightweight
Cons
Not So Durable
Limited Availability
Thin Rubber Sole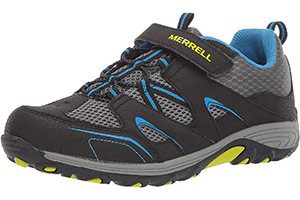 If your child is as likely to end up in the woods as on the playground you should check out the Trail Chase Sneaker from Merrell. This shoe is a great hybrid between sneaker and trail hiker with a durable rubber sole and strong leather construction. These shoes have a lot of traction and lace up tight but they do weigh a bit more than other top kids shoes on this list at nearly 6.5 ounces.
These sneakers are awesome for hiking, biking, and climbing. They offer more water resistance than a typical shoe with the leather and suede upper but that does sacrifice some breathability. If your child is very hard on their shoes these might be a great fit because they have good construction and durable materials throughout. A velcro enclosure on the top helps ensure that kids are laced in tight.
These shoes do a great job as both a hiker and a sneaker but the colorways do lean heavily towards trail shoes. Kids are not going to find a solid neon or rainbow color but instead will see lots of dark browns and blacks with small pops of sharp accent colors. These shoes might be a little too subdued for your child when their classmate shows up in unicorn rainbow shoes with light up heels! Still, you can bet in that instance these shoes will sport better traction 🙂
Pros
Outdoor Style & Design
Durable Material
Great Ankle Support
Cons
Not So Flexible
Subdued Colorways
Heavier Shoes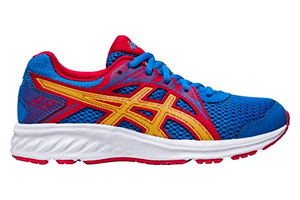 ASICS is known for their supportive, high-quality running shoes and these sneakers represent with a tough rubber sole and breathable mesh upper. The fabric linings on these shoes is highly breathable so kids with especially sweaty feet might prefer them over other options. The custom Ortholite tech promotes airflow that wicks away moisture and cools the foot.
These shoes lace up tight for a secure fit at the big race but remain comfortable due to ample padding on the tongue and collar. The shoes have a lot of great grip with non-marking lugged rubber that also improves stability. The rubber sole does add some weight as each shoe weighs about 7 oz.
These shoes have good styling with the trademark Asics stripes and awesome colorways available like Sheet Rock, Lime Green, and Astral Blue. The shoes have a white rubber sole and most colorways sport black shoe laces. These shoes provide awesome support and fit true to size so parents can order with confidence.
Pros
Running Shoe
Comfortable Fit
Strong Support
Cons
Older Styling
Fewer Colorways
Not So Light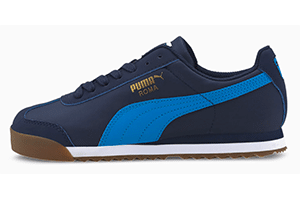 Puma is a classic streetwear brand and they bring that same style and aesthetic to their Kids Roma Basic shoe. It is a very attractive shoe with strong colorways available like Denim Firecracker. Especially good looking is the nubuck upper that gives it a warm look and feel.
This shoe does sport a strong rubber sole but it is mounted on top of a foam base. The sole extends up to the toe cap which provides good durability at the front. This is a great looking shoe but overall it is a bit flimsier than others on this list and does not provide the same level of ankle support. Parents will want to make sure that kids lace these shoes up tight.
These are some of the lightest shoes on the list at just 3 ounces. The tongue has padding and the foam bottom makes for a very comfortable shoe. Kids will be happy running around in these but parents might prefer that they find a shoe that is a bit sturdier.
Pros
Very Lightweight
Leather Upper
Super Comfortable
Cons
Premium Price
Soft Sole
Hard to Clean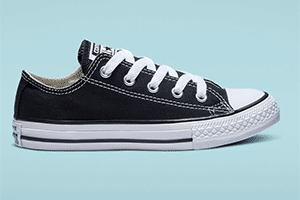 An honorable mention goes to the Converse Chuck Taylor canvas low sneakers that have been successfully outfitting kids for generations. They do not actually score well on any of our metrics like breathability or support but the timeless look and classic style has always had kids coming back for more. If your child wants to rock these with a pair of jeans it will look good guaranteed.
The shoes are not lightweight but the rubber sole with canvas upper does make them durable.
Kids Shoe Buying Guide
Buying Kids Shoes Online
Buying shoes online can be fraught with pitfalls. Parents need to shop at reputable stores to avoid buying "new shoes" that are worn returns or knock offs. Unfortunately as sneakers explode in popularity the counterfeit shoe market grows alongside it. Shoppers should also look for stores with free shipping on returns because sometimes the shoes might have an improper fit on your child's feet.
Sneaker Culture Slang
Shoes and sneaker culture have a lot of acronyms and slang that shoppers will encounter when searching online. For kids this age, parents should be aware that shoes will often be marked as "PS" for preschool sized shoes and "GS" for grade school sized shoes. Shoe listings without either of the (PS) or (GS) markings is likely for an adult size shoe so be careful shopping online.
Sneaker Colorways
Colorways are the color designs in a shoe and they have exploded in popularity with all shoes offering more than the staid black and white options of yesteryear. Some boys will make the Nike Snkrs app one of the first things they download when getting their first ipad so that they can watch for new colorways.
Foot Health Issues
Kids feet develop rapidly and during a growth spurt some foot related issues may develop. Proper footwear is critical for supporting feet and ankles during this time. Children's feet start small but get big fast. On average, parents can expect their children's feet to grow longer by 1mm per month. Children under age three usually grow a bit faster than that 1mm per month and children above age six often grow a little bit slower than that 1mm per month. In a perfect world, kids should wear shoes about 17mm longer than their feet and consider them 'outgrown' when the shoes are less than 12mm longer than their feet.
Parents should take the time to not only make sure their kids shoes fit properly but also to check their child's gait. Watch the walking stride of your child and be on the lookout for abnormal patterns like tip-top walking and toes in or toes out. Also examine the wear pattern on the bottom of the shoes to make sure it is not asymmetrical or excessive. Knock-knees are fairly normal to age eight, but bow legs and pigeon toes can develop around this age and early intervention from a podiatrist is key to successful treatment.
Healthy Kids Shoes
Good kids shoes are integral in avoiding injury and aiding their growth and development. When shopping for kids shoes be sure to check for certain key things such as:
Proper Fit. Parents can unfortunately cause a lot of foot problems by forcing children into shoes that don't fit. Shoes that are the wrong size but pressure on bones in the foot and can lead to children clawing with their toes.
Strong Ties or Velcro – Shoes that have adjustable straps or laces to help secure it to the feet is preferable over sandals or slip ons that might be more convenient but can lead to injury.
Lightweight – The best part in shoe technology is that kids don't have to wear heavy clog shoes on their feet. Free to be in lightweight shoes means less work for the child's feet and legs.
Bendable – Save the stiff shoes for church and find shoes with malleable soles that let your child bend at the toes and ball of the foot.
Firm Heel Cup – Bendable in the front but find shoes that are stiff in the back with good heel support from a firm heel cup. You should not be able to squeeze together the sides of the shoes around the heel.
A quick note on kids arches. As children we all sort of look like our feet are flat. That does not mean we are destined to grow up with flat feet. Children's feet have a layer of padding in the arch that serves as support at a young age. As they grow that padding will go away and their arch will develop.
Conclusion: Best Kids Shoes
Parents need to be smart when shopping for the best kids shoes. Look for a shoe that is lightweight but durable enough to last. Try to find a shoe that is stylish but made of breathable fabrics. Make sure you buy shoes that fit your child's feet and support their heels and ankles as they grow.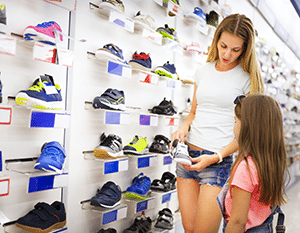 Shop for a kids shoe that makes your child feel great and encourages them to get outside and have some fun.
Do not spend too much money on your kids shoes. They will not last long enough or fit long enough or be taken care of long enough for you to get your money's worth. Don't be too cheap when shopping for kids shoes because you will sacrifice quality and durability so severely that the shoes might quickly fall apart. The sneakers on this list of the best kids shoes won't break the bank but they are high quality shoes made by some of the leading brands. Parents can shop for shoes on this list with confidence.