Shopping for children's shoes can be difficult. Kids feet are growing fast and often their two feet don't grow at exactly the same rate. Kids are rough on their shoes during recess and also taking them on and off.
Buying Kids Shoes
The best kids shoes are durable enough to take a beating. They are easy to lace and get in and out of, because young kids are not patient enough to untie their shoes and instead will choose to jam their toes in and wiggle the ankle until it slides in.
For basketball, you want to get your kid a shoe with a high ankle that provides a lot of support. Early basketball games are some of the first experiences your child might have getting their feet tripped up and good support can help them avoid a sprained ankle. Take a look at our suggestions for best basketball shoes for kids.
Running is a great sport for young kids to get involved with. Often in high school the cross country and track teams are some of the 'no-cut' sports meaning that everyone gets to participate. It is a great way to stay healthy and get involved. Running requires good support on the heel and arch. Young runners are just starting to build and refine their stride. We review our best running shoes for kids.
Playing soccer, football, or baseball requires a pair of cleats. The best kids cleats are narrower than regular shoes and have a more symmetrical angle. They also of course have spikes on the bottom of the shoe for good traction on the field. We rate the best cleats for kids and help parents figure out what sports can share cleats to save money.
Water shoes are a great alternative to using sandals, going barefoot, or wrecking your tennis shoes. A good water shoe has a durable material but also one that is very breathale. Our review of the best water shoes for kids takes special care to find ones with good tractions so that young ones are less likely to slip and hurt themselves during play.
Kids these days have a newfound love for getting out into nature for a hike, after all how else are you going to get likes on a killer instagram post? Get your child outdoors in the proper gear with a good pair of hiking shoes. Your child can wear their regular shoes on that hike but they are going to get dirty and trashed while also not giving him the traction or ankle support he needs at this age. Our top hiking shoes for kids has reviews of the best shoes available for their next time out on the trail.
Kids Shoe Buying Guide
Purchasing shoes for your kids can often be a bit of a difficult dilemma. Maybe it's easy to shop online to choose the brand and colorway your child wants, but selecting the right size is an age-old problem that can stump a lot of parents. Even new sneakerheads have a hard time choosing their right size when buying a new drop for the first time, so it is not surprising that parents often aren't sure of their kid's proper foot size. Further complicating things, kids' feet grow fast and they often resist tight shoes, preferring something loose where they can wiggle their toes.
This guide will provide you all the information you need when it comes to kids' sizing. From Infants to Big Kids sizes, we break down what parents need to understand to help ensure a proper fitting shoe for their child. Below we even have a comparison guide to help you understand the difference between Kids' sizing as well as Men's and Women's, which is critical if your child is ready to transition to a bigger size shoe. Read below for our Kids' Shoe Sizing Guide.
Child Shoe Sizes
A shoe's size is based on the heel-to-toe length of the shoe, usually labeled in inches or centimeters. For kids, there are various measurement labels used to set the sizes apart. But take note that different brands have different sizing charts, so check the measurements and captions to know.
To begin, kids' shoes are categorized in various ages. Infants and Toddlers are specified for babies who are aged 1-4 years old. It usually starts at 3.2 inches (8.1 centimeters) and runs until either 6.3 inches (16cm) or 7.1 inches (18cm). It's essential to know your child's foot length in inches or centimeters to make sure you get the correct size. Remember that brands have different sizing standards which may cause some parents to be confused.
Nike Kids Shoe Sizing
For instance, Nike labels their kids' shoes in a slightly different way. Their smallest size is a 1C, or 2.7 inches (7 cm) when converted to an easier length. It goes all the way to 13.5C, equal to a size 7 (19.5 cm). In EU and UK standards, a 13.5C is equal to a UK 13 and an EU 31.5. Check more of their Kids' measurements below to understand Nike's shoe sizing chart.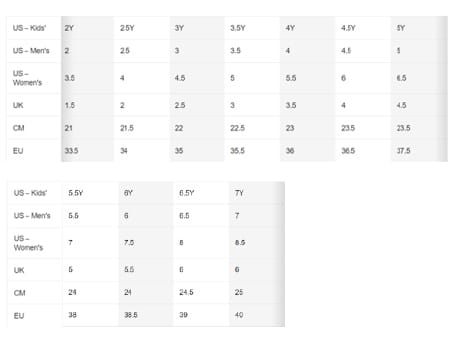 You may notice that after 13.5C, a size 1Y appeared. It's Youth size and is equivalent to 7.8 inches (20cm). The most commonly bought size for a Youth size is around 3.5Y and above, as this size is equal to a Women's size 5, which is one of the usual sizes for the ladies. Youth sizes or GS (Grade School) sizes usually end in 7Y, and then they transition to Men's sizing in sizes 8 above.
It's also worth looking at the fact that a Youth size seems to be the same length as a Men's size. Yes, the measurement may be the same, but as Nike said in a statement: "A Youth size is built for kids. A Men's size is for adults." What does it mean? If you check some Nikes and find the differences, you may see that a Men's shoe quality is better and has full tech specs such as advanced cushion and other details. Youth sizes are the same but often technologically aren't up to par with the Men's size. Cushioning systems like the Zoom Air and Air Max are smaller in Kids' sizes and don't provide the same impact as the Men's or are replaced entirely with less expensive systems. It's essential because too much cushioning can affect the lower body joints of kids, so Nike decided to minimize them to a standard specified for kids.
Nikes, in general, are mostly true to size, but they tend to be narrow despite that. So remember to check the guide and convert the provided lengths to inches or centimeters to get an accurate size for your child. A Men's size 7 in Nike is measured at 25cm, but other size charts measured a size 7 at 25.4cm, slightly longer than the former. It's the same for a 7Y in kids' sizes.
If you would check Nike's online website, they label their kids' shoes in three categories: Baby and Toddler (0C – 10C), Little Kids (10.5C – 3Y), and Big Kids (3.5Y – 7Y). You won't be confused with Men's and Kid's sizing as Men's sizes usually start at 7.5 to prevent any confusion. Remember to check the label at the end of each sneaker you're planning to purchase.
Kids' Shoe Sizing Terminologies:
C – Child | Starts from 1C and runs until 13.5C
Y – Youth | Runs from 1Y to 7Y (Same Length as Men's Sizes but has different prices)
GS – Grade School (Usually runs the same size with Youth/Big Kids)
Other shoe brands often have identical sizing charts with Nike, so you may base it off the guide above to get at least an estimate measurement to know your kid's shoe size.
Adidas Kids Shoe Sizing
One exception parents will see is how Adidas' Kids' Sizing compares with Nikes. If you don't know by now, Adidas historically runs slightly larger both in length and in width. Check the Adidas Size Chart below to guide you better on their measurements. Fret not, as there really isn't any big difference with their terms and categories.
Adidas uses 3 categories: Babies & Toddlers, Children, and Youth & Teens.
The first size available for Babies & Toddlers is a US 1k (K for Kids) and runs until a US 10k which is around 6.3 inches (16.1 cm).
Babies & Toddlers (0 – 3 years) Adidas Size Chart.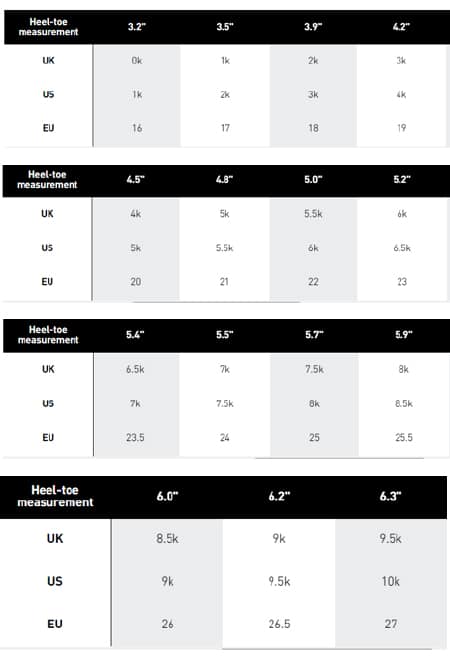 *The Heel-toe measurement is listed in inches*
The Children's sizing, on the other hand, starts at 6.5 inches (17.4 cm) and ends at 8.3 inches (21.2 cm). Equivalent to US 10.5k and a US Men's size 3 (Men's sizes start from a US 4 which is about 8.7 inches). It's heavily similar to Nike's chart, except that Adidas runs slightly longer.
Adidas Children's Size Guide (4 – 7 years old)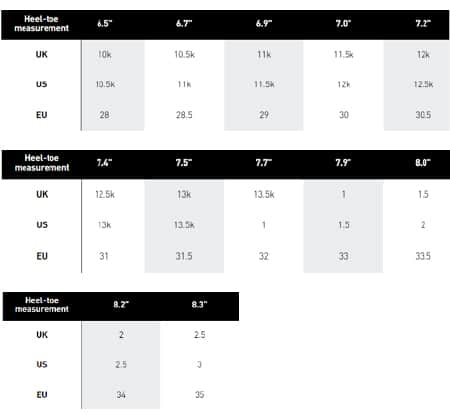 The last category in Adidas' kids' sizing is the Youth & Teens. It's similar to Big Kids and Grade School sizes. It runs from US 3.5 (8.5 inches) to US 7.5 (9.8 inches). It transitions to Men's and Women's sizes afterward, The biggest Youth & Teens size is equivalent to a Men's 7.5 and a Women's 8.5.
The quality between Youth and Men's sizes at Adidas isn't astronomical, but it's also similar to how other brands feature less tech on their GS size compared to the Men's size despite having the same length. It's a way for brands to save more, that's why the prices are completely different from one another.
Kids Shoe FAQ
Is there any size difference between a boy's shoe and a girl's shoe?
Actually, there is none, the term "kids' shoe" is widely used so parents can focus on the size instead of deciding whether a sneaker is gender-specific. It will depend on the colorway and is a subjective thing to describe. But as far as sizing and fit go, no big difference as most if not all children's shoes are labeled as 'kids'.
Is it okay to buy my child a shoe in men's size because his shoe size is bigger than usual for his age?
Yes, there's nothing wrong with transitioning to an adult men's or women's measurement when the time is right. If he or she is an athlete, then it's better to equip them with full sneaker tech that is seen on adult sizes. Prepare to spend a little bit more money though, as adult sizes are more expensive than kids' shoes.
I'm confused with the UK, US, and EU sizing labels.
You don't have to be! It's just an inclusive part of the chart so people from those places can find their size. It's more important to know your kid's foot length in inches or centimeters and then convert from there.
Measure Your Child's Shoe Size
It is important for parents to put children in shoes that fit properly. So, before making your way to the mall or before shopping for your kid's shoes online, you must first measure your child's foot at home to know what approximate size they are going to be. Worry not, it's definitely not as hard as you think it is, and you do not need any fancy equipment. In fact, all you need is a tape measure or a ruler, a marker, and a piece of paper as a tracing guide.
Measuring your child's foot is a great way to estimate their shoe size but they will still need to try the shoe on to ensure proper fit. Brands can differ in their sizing standards, and some brands like Nike, Under Armour, and New Balance, among many others, usually have sneakers that run small even when you stay true to size. On the other hand, brands like Adidas have wider sneakers that provide some wiggle room for the kids' toes. Always have your kids try shoes on to make sure they fit properly.
There are a few different ways to measure your child's foot. The following guide will examine each of the different methods in measuring your kid's shoe size. Just by using the materials mentioned in the first few paragraphs, you'll have an accurate estimate in no time!
Quick trivia, did you know that it's better to measure foot size during the afternoon or at night and not in the morning? It's because our feet reduce to their original form when we sleep, only getting longer and wider when we put stress on the skin by walking and other activities involving the foot.
Step by Step: Using a ruler
To start, have your child stand up straight and tall then make them place their feet with their heel touching the wall. You may put the ruler on the ground beside their foot or even have them step on it so you can clearly see where the big toe lands on the ruler. The ruler must start from back of your child's heel.
Mark on the ruler where your child's longest toe extends to and measure using the ruler. There you have it, a quick and easy way that measures your kid's foot length. Base the shoe size according to the measurements seen on the ruler.
Step by Step: Using a paper and a marker
Another quick and easy method if you don't have a ruler, this time by simply placing a paper underneath their foot while standing still behind the wall with their heel once again touching the wall. Get the marker and draw a line where the biggest toe is placed. You can then take that paper with you to the shoe store or borrow a tape measure to get an estimate on the foot length. Check the measurements and there you have it.
Step by Step: Tracing the foot to both measure foot length and width
This method will measure both the length and width, which can be helpful for parents in case they need to know which brands might have shoes with narrow bases that can be too tight for kids with wider feet.
To start, have your child step on a sheet of paper. The foot must be placed in the middle so you can draw and trace around the foot easily. They must be standing straight and tall as well, so their foot fully stretches externally. Start from the heel and draw around the foot, you don't have to literally draw the toes as well, just follow its outline. After you complete the drawing, use a ruler or a tape measure to get the estimated calculation of the foot's length and width.
Step by Step: Measuring a baby's foot size
All you need is a tape measure to simply measure the baby's feet. Let them lay down and place their foot on your lap, use the tape measure to get an estimate on the foot's length. You may do the same for the width, place the tape measure around the widest side of the foot (presumably the forefoot area). Using a ruler instead of a tape measure can help make sure you do not scratch the baby's feet or legs.
How to know if Kids Shoe Fits Correctly
Parents can get the estimated shoe size using various measuring methods above, but it's still critical to actually get them to try the shoes on and get the proper feel and fit.
Since kids can't actually tell you eloquently if the shoe fits them well or not (because they almost always assume that as long it can fit them, they think they can wear it comfortably). Getting a size too big can result in clumsy footwork and may make them stumble when walking or running. Some of these tips below can help you know if your kid actually feels comfortable with the shoe just by trying them on. It can save you and your wallet from a pair of kids shoes that would only catch dust and remain in the closet.
Check the heel space and toes
One easy thing you should do is check if there's too little or too much space inside the shoe by examining the available heel space while the kid is wearing the shoe. You may allow about ¼ inch of space on the heel and around half an inch on the toe so your kid can still grow into them after a few months. It's not ideal to buy a shoe that fits the foot with no wiggle space, and the little space in the heel can determine that.
Observe the way your kid walks when wearing the shoes
Sometimes you just have to base on your intuition and see if your kid's facial expressions and walking style look different as a way to know if they're feeling comfortable with the shoe. Shuffling steps or sloppy footwork can be an indicator that the shoes don't fit well and are uncomfortable, so take note of those little changes in movement. You can make them walk or even do light jumps to know any indication of pain or discomfort.
Teaching Kids to Tie Their Shoes
Whether we like it or not, kids grow faster than expected. At some point in time, they have to be responsible and be held accountable for their actions. That way, they can grow into a mature and decent person that can contribute to society.
Growth aside, they'll similarly have to eventually move on from hook and loop Velcro shoes and start wearing shoes with regular laces. That's why it's important to teach them how to tie their shoelaces as early as possible. But, just like every beginner trying something for the first time, it won't come easy. We will need patience and understanding to communicate better until they learn – no matter how long it may take.
This guide will provide you with a step-by-step process of teaching your kids to tie their shoes on their own. It will include various ways for them to learn easily and understand the concepts on why it's important to tie shoes well.
What's the ideal age to teach a child how to tie their shoes?
The hand-to-eye coordination of a kid starts to develop by age six or even as early as age five, so it's better to slowly let them grasp new things such as writing, using a spoon and fork, and of course, the basics of tying shoes. It may be just as hard for the parent as it is for the child – but with enough patience and practice, it's a gratifying feat that's worthy of a special treat. Remember to celebrate little victories with your child.
Teaching Kids Shoe Tie Concepts
Fortunately, you don't have to explain rocket science nor physics for them to understand why tying shoes is important. There may be occasions where their ties get loose, and knowing how to tie their own shoes is essential to prevent loose-fitting shoes that may fall off their feet when kept untied for long periods of time.
You can start by telling the kids that not everyone will be present every time they have to tie their shoes and that it's helpful that they can start knowing how at an early age. Parents or teachers won't always be around to help them. Encourage them that it's easy to do and that they just have to simply listen to your instructions and practice for them to learn.
Start with the basics
A clear, step-by-step guide will quickly help them follow along, try using these instructions when you start to teach them how to tie their shoes.
Let your kid untie the shoe from its default (factory) lacing setup. They can do this by pulling the aglets out of the factory setup.
Teach them the total number of lace loops and why they are essential. For this instance, have them pull the shoelaces out of the top lace loop so they can easily slide their foot in the shoe.
Now that we're set up and ready to start tying the shoes, find a suitable chair or platform so they can sit comfortably when bending their back as they lean towards the foot.
Begin by instructing them to pull the shoe's tongue outward before they slide their foot inside the shoe.
Since kids learn by doing and do what they usually see, get your own pair of shoes and show them how it's done before making them try on their own. Think of it as one of those Youtube tutorials that kids love to watch, so be as engaging as possible and motivate them if they ever keep failing.
The following set of instructions can be said to kids:
"Hold both ends of the laces and form the letter X."
"Now put one of the laces under the other and pull them together from opposite sides."
"Keep your grip tight and hold them firmly"
"Form two loops or circles by pinching the middle part of both laces"
"Now we're ready to tie them up! Do another letter X, this time with both of the loops"
"Put one of the loops through the small space under the formed X and pull tight"
"There you have it! You have tied your shoes all by yourself."
Realistically speaking, it depends on how long or how short they will grasp each instruction, so remember to be very patient and continue to guide them again if they ever lose track or feel confused. Once they have done it, let them try it again until they master it because we all know that practice makes perfect.
As they progress through the years, you can introduce new lacing styles for that added style – in hopes of them ending up and becoming a sneakerhead. Performance shoes are usually laced twice to make sure they won't come undone, so instruct them another easy step – making another loop and put one lace loop go under and through the other for a more secure fit.
Kids grow too fast, but it's never too early nor too late to teach them how to tie their own shoes. It's also for their safety, once the kids are at school and the parents are not always present, there will be times when the kids would play but end up tripping and fall down multiple times because of untied shoelaces – this is exactly what we are trying to avoid. So make sure that they always check their shoes and ensure that the laces are tied well.
Conclusion: Best Kids Shoes
Just like their rapid growth in height, your child's feet will grow fast so it's important to regularly measure your kid's foot and make sure of their shoe size before making a purchase. We all know that buying a lot of shoes is impractical as they will easily outgrow them in a short span of time. But that doesn't mean that they have to endure the pain of wearing a narrow-fitting shoe for a long time, because it may affect their growth and damage their feet.
Remember to check this guide to read everything you need to know about kids' shoes. It's a huge help, especially for parents who are not familiar with the terminologies used by different brands. Just always take note of proper measurements along with the application of easy measuring methods – and your kids will surely be good to go enjoy their shoes until they eventually outgrow them.