It is a lot safer for your kids to wear cleats instead of regular shoes when they are playing baseball, football, or soccer. Letting your kids wear regular sneakers when playing sports on firm ground is a complete no-go because regular sneakers don't have enough traction to grip the turf. Running around while wearing shoes with lackluster traction is like running on ice and surely an accident waiting to happen. In adverse conditions when the field is wet or uneven, wearing cleats is even more necessary.
Best Kids Cleats
Parents are primarily trying to prevent injury when they outfit their child for sports, and it is always better to purchase your child proper, well-fitting equipment before they engage in strenuous outdoor physical activities. Sports cleats are vital for lots of outdoor sports, which is why you can see athletes wearing cleats on soccer pitches, baseball fields, and the football gridiron.
Cleats look nothing like regular sneakers – they're narrower, have a symmetrical angle, and of course, they have spikes under the shoe. The spikes provide good traction on grass fields, and the spikes may appear round or sharp depending on the sport.
Parents have lots of questions about kids cleats and in this comprehensive guide on kids' sports cleats all your questions will be answered. The guide will discuss the similarities and differences of football cleats versus soccer cleats versus baseball cleats, and if you can wear the same cleat for different sports. It's followed by a review of some of the best kids' cleats available for soccer, baseball, and football. Also included is a buying guide for helping parents get the most out of their budget.
Differences between Soccer cleats, Football cleats, and Baseball cleats
Ever wonder why sports cleats don't look the same for each sport? Or wonder if your child can wear the same cleats for different sports? Cleats are different from sport to sport and there is a good explanation as to why cleats for soccer aren't exactly the same as football cleats and baseball cleats. Each sport has different specifications and requirements for optimal performance, so let's look at the difference in cleats between the major sports.
Soccer Cleats – Soccer cleats are often low-cut and are much lighter when compared to football cleats or baseball cleats. Soccer athletes emphasize big kicks, quick cuts and running fast across the pitch, so they want a cleat that won't inhibit their ankle mobility. When it comes to its outsole, also called stud, most soccer cleats feature conical stud pillars instead of blade-like sharp edges. Most soccer leagues are actually strict with athletes to only wear soccer cleats, as cleats for football and baseball sometimes feature sharp and metallic studs that can injure another player.
Soccer cleats' studs may also vary depending on the playing surface. Firm Ground (FG) Soccer cleats are versatile cleats that are mainly worn on natural grounds, such as grass fields and other solid turfs. It commonly features plastic studs and can be used for most surfaces. Soft Ground cleats, on the other hand, have longer studs to fully grip the ground even on wet surfaces.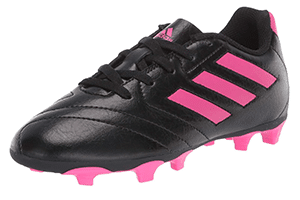 See an example of a soccer cleat from Adidas pictured above, the studs are placed on the forefoot and heel areas and are made of plastic or TPU (Thermoplastic Polyurethane). The toe area on soccer cleats does not feature an extra stud pillar so players can kick the ball efficiently. Using baseball or football cleats for soccer is a no-no because they feature a cleat in the toe area.
As for the upper, most but not all soccer cleats appear to be low-cut. Some feature a sock-like material that covers the ankle to provide a better fit and prevent heel slips while keeping the shoe lightweight and comfortable.
Football Cleats – Football cleats come in various constructions; they may be low-cut, mids, or highs. Football cleats are not as lightweight as soccer cleats, and they have more internal padding to give extra ankle protection for tackles and collisions. For kids' football cleats, the shoes feature multiple straps atop regular lacing systems for maximum support and protection.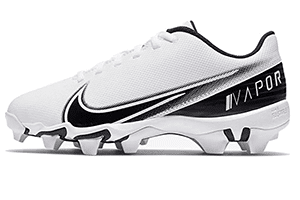 Another difference between soccer cleats and football cleats is that football cleats have an extra toe stud in front that provides more traction when pushing off or running with tiptoes. Traction is essential for football athletes as it helps them cut faster and adjust their feet quicker as they execute various maneuvers. Studs can either be plastic or rubber, depending on the league rules and preference of an athlete.
Some athletes opt to use removable stud cleats when playing in different turfs, such as natural fields or artificial. Wearing modified stud cleats is now often done for fashion, as one NFL athlete wore a customized Yeezy cleat and then got the shoe banned for violating league guidelines. The league has since loosened the rules and more exciting shoes in fun colorways are turning up every Sunday.
Baseball Cleats – Since baseball is often played on grass and clay mounds, professional baseball cleats almost always need to use metal studs to get the most out of their traction as players run through dirt from one base to another. Baseball cleats have an extra toe stud similar to football cleats as well, and they also often have more studs on the forefoot compared to soccer and football cleats so that players can dig in the batter's box.
Professionals use removable studs to flex their coveted sneakers when they play baseball, but for kids – it's better to stick with baseball cleats. Although baseball cleats can be sometimes customized, you can wear soccer and football cleats for baseball. Having your child wear soccer cleats for baseball is a good way to save some money.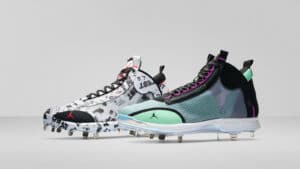 As you can see in the image above, the Air Jordan 34 is a basketball shoe that is modified to become a baseball cleat.
As long as the upper is supportive enough and the studs can grip the baseball diamond well, there's no problem with wearing soccer cleats or even football cleats for baseball.
Baseball may also involve running but not as much compared to the likes of soccer, football, and lacrosse.
Quick FAQs
Kids' baseball cleats are mostly made of rubber, is it possible for my kid to use them to play soccer as well?
In general, baseball cleats are prohibited in soccer due to their metallic studs that may cause harm to another player. There are available molded baseball cleats for kids, however it isn't advisable to use them for soccer – the extra toe stud can affect their soccer dribbling, and the studs in baseball cleats are often longer than soccer cleats and that can hinder their movement even more. You may let your kid use soccer shoes for baseball if you're on a budget, but it isn't the best option for top performance. Parents can easily use soccer cleats for tee-ball as kids at that young age place much less exertion on their shoes.
Can I let my child wear soccer cleats for football and vice-versa?
Soccer cleats are built for speed – they're smaller and lighter than baseball and football cleats. You can let your child use soccer cleats for football and vice-versa, but remember that the soccer cleat's lightweight build sacrifices some foot and ankle protection provided by football cleats. Of course, football kickers and punters actually often wear soccer cleats, so if you're kid plays that position – you're good to go. Soccer cleats are also the most versatile among the three – but that doesn't translate to better performance.
As for football cleats, you can use them for soccer – granted that it doesn't have metal studs. Just know that it isn't lightweight and is bulkier than soccer cleats in terms of the overall construction.
What are the most versatile cleats for parents to buy young children?
To summarize, soccer cleats are the most versatile choice for parents who are planning to stay under the budget and purchase an all-around cleat. Usually in low-top form.
Football cleats are worn for their padding, support, and protection. These are essential aspects to prevent major injuries while playing football and being involved in tackles and other collisions.
Baseball cleats prioritize traction above all else and have longer studs compared to soccer cleats. Players on the baseball diamond are digging into the batter's box and making quick movements as they try to get a jump on the ball when playing defense.
Comprehensive Sports Cleats Review and Comparison
Our ratings and reviews look at the best kids' cleats for soccer, baseball, and football. It will discuss the key features as well as the pros and cons of each shoe.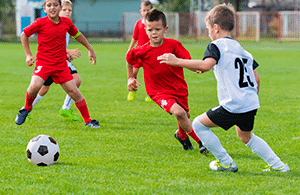 In our reviews we always consider the pricing for each cleat and conclude if it's a good option or not because children's feet grow fast and parents should avoid overpaying for a shoe that might only last one season.
Let's look at some of the top kids' soccer cleats.
Top Soccer Cleats for Kids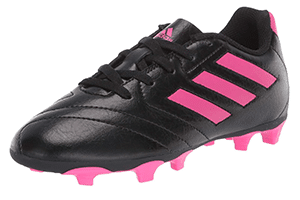 A lightweight and affordable soccer cleat offering from Adidas, this Adidas Unisex Goletto Football Cleat is a great option due to its straightforward features that get the job done. The low-cut upper is made of synthetic leather that is durable and lightweight. On the outsole, the molded triangle-shaped studs are made of rubber. It does a good job gripping both natural and artificial fields.
It's a great option for parents who are planning to purchase decent budget soccer shoes. Though it's not necessarily recommended for football and baseball due to its low-top construction – it's a good starter shoe for kids. The shoe fits true to size, although it's more on the narrow side – wide footers may opt for a half size up or a full size up to ensure unrestrictive fit.
Pros
Good fit
Durable
Lightweight
Good Traction
Cons
Limited Colorways
Not as suitable for wide footers
Too flimsy for older kids to wear in football
Possible alternative for football and baseball cleats? : Football and Baseball no, Tee-ball yes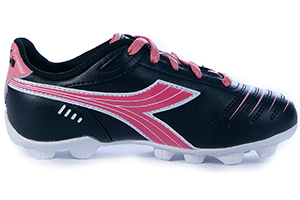 A versatile soccer cleat ideal for both indoor and outdoor turfs, this Diadora Kids' Cattura Soccer Shoes boasts 14 molded studs on the outsole – 10 nubs are strategically placed on the forefoot to reduce stress on the toes when they are running.
The upper is made with soft polyurethane, mimicking a synthetic leather's texture. Most of the high-wear zones are stitched, so parents can expect a durable shoe that can last their child at least a full soccer season. However, the flat laces are a bit prone to fraying, so it's advisable for parents to buy extra laces before such incidents occur.
Diadora's sizing notoriously runs a full size small, and the forefoot runs more narrow – which may cause fitting problems. Normal footers can go a half size or a full size up, while wide footers can try a full size up or a 1 ½ size up.
One of the soccer cleats that dominates in the mid-tier when it comes to quality and pricing, the Diadora Cattura Soccer Shoes is a minimal soccer shoe that provides good traction and durability. Just take note of the small sizing and some occurrences where the laces start to fray.
It's not advisable to use them for football, as its lack of ankle support may result in injuries during extreme physical play.
Pros
Good Traction
Suitable for Indoor and Outdoor Turfs
Sturdy upper
Good Colorways
Cons
Runs a full size small
Threads come loose after multiple wears
Lace Durability Issues
Possible alternative for football and baseball cleats? : Not for football, good for tee-ball
A relatively unknown brand until recently, Vizari looks to establish itself as a player in the performance shoe market with its quality products. The Vizari Stealth Kids' Soccer Shoes is one of the brand's entry-level soccer cleats. The upper sports a mix of mesh and a honeycomb textile fabric to reinforce the lightweight construction. The design on the upper features curved dots that gradually enlarge from the midfoot to the heel.
When it comes to the stud outsole, Vizari Stealth boasts 14 rubber nubs – 10 of them located on the forefoot for maximum grip.
The brand sizing runs fairly true to size. The shoe features a wider base for stability. But some people have reported inconsistency with the sizing. Some parents received narrow cleats, while some received wider fit – despite staying true to size. That sounds like more of a quality control issue.
Compared to major sneaker brands, Vizari has a lot to prove – and the Vizari Stealth Kids' Soccer Shoes is a good start for the brand. A soccer cleat with no thrills and no-frills, Vizari Stealth is an underrated soccer cleat that has built a respectable following despite not really having any kind of marketing nor promotion when it hit the market. The Stealth's simple features and specs make it a good option for soccer but inadvisable to be used for football and baseball.
Pros
Textile upper is durable
14 studs on the forefoot grip well
Lightweight
Good for parents who like to try new brands
Cons
Sizing issues – some run too narrow, some run too wide
 Limited Colorways
Possible alternative for football and baseball cleats? No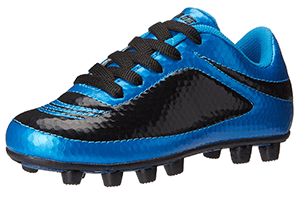 Vizari is back with the Infinity Firm Ground Kids' Soccer Cleat, and this time, the brand looks to compete against top-tier brands that dominate the market. Featuring a water-resistant synthetic fabric, the upper also features multiple dimples throughout the shoe to help the kids control the soccer ball better when playing. It's a great feature to have, especially for an up-and-coming brand like Vizari.
The outsole features 14 circular studs – 10 of them placed on the forefoot, a tried and tested construction that gives consistent grip on firm grounds.
The Vizari Infinity is a great pickup for parents who are looking for an affordable soccer cleat that has the similar qualities of an expensive soccer cleat. Style, function, and price – this soccer cleat truly hit the park with its features.
The sizing is a little off once again, some parents have complained about getting a size too long, and sometimes a size too small. But if you're planning to purchase the shoe, it runs a little narrow so better go half a size up to make sure it would fit for the longer term.
With its sturdy synthetic upper and comfortable internal padding, this cleat can be a budget alternative for football and baseball (or tee-ball for younger kids' age group).
Pros
Durable
Lightweight
Water-resistant
Affordable
Great Colorways
Good traction
Possible alternative for football and baseball cleats? Yes
Nike brings the trend of knitted performance shoes to this Mercurial Superfly 7 Academy Firm Ground Soccer Cleats. Sporting a Flyknit upper with a sock-like padding entry for added comfort and lightweight support, the knit on the upper is tighter and more reinforced for better durability.
On the outsole, 11 rubber or plastic studs (depending on the colorway) are distantly placed on the decoupled forefoot and heel to allow maximum flexibility and dig the natural grass fields well. The studs are also longer and wider to ensure consistent traction throughout the season.
A premium option for parents who are looking for an all-around cleat that their kids can use for soccer, football, and baseball, the Nike Youth Mercurial Superfly 7 is a solid option for those who can afford one cleat for an entire soccer season.
As for the sizing, the shoe runs true to size. Kids wouldn't have a problem with feeling too restrictive, as the Flyknit upper and sock-like ankle collar are stretchy enough to give a little bit of space around the midfoot area – making up for one comfortable ride.
It may lack an extra toe stud, but it's a good alternative cleat that can also be used for football, baseball, and tee-ball. This cleat is a wise choice for parents who don't want to spend on a lot of kids' cleats as they will outgrow them in a few years or even months.
Pros
Comfortable Flyknit upper
Durable Outsole
Supportive
Good Traction
Lightweight
Cons
Sock-like ankle collars become flimsy over time
Limited colorways
Possible alternative for football and baseball? Yes
Top Football Cleats for Kids
Next up, let's look at some of the top choices for kids' gridiron equipment, the Football cleats. Again, the football cleats are going to offer more padding and protection than a soccer cleat while also adding cleats to the front toe. Football players emphasize toughness, speed, and agility so these shoes work to balance all three.
This Nike Kids' Vapor Edge Shark Football Cleats seems to stay true to its name, as the rubber studs that look like shark teeth are aggressively placed on the outsole. Nike's Fastflex technology provides multiple flex grooves to help your child run faster and cut harder with no hesitation. It's accompanied by a Phylon midsole to minimize impacts on hard landings.
When it comes to the upper, the perforated mesh fabric adds ventilation to prevent the foot from feeling too hot. This cleat may be in low-top form, but the heel cup labeled with "Vapor" adds more support and stability for physical plays.
The sizing is said to be true to size, but it would be wise to go half a size up for a better fit.
A great choice for parents who like to stick to Nike, the Vapor Edge Shark can also be used for baseball but not for soccer, because despite the FastFlex system its thick Phylon foam midsole adds weight and hinders a little bit of flexibility.
Pros
Durable
Good Cushion
Aggressive Traction
Breathable
Supportive
Cons
Limited Colorways
Sizing issues
Possible alternative for soccer and baseball? Baseball only
Most people know Under Armour for its high-quality performance shoes, although some might say that the brand sacrifices aesthetics to produce superior tech specs at a budget price. With the Under Armour Child Spotlight Franchise Football Shoe, your child can get top-notch quality and specifications that can even match the standard of men's performance shoes. Featuring a synthetic upper with plastic-like overlays for added durability, this high-top cleat also has a padded interior right on the ankle area to keep the foot locked in and supported during the game.
The upper sits atop a full-length EVA midsole for minimal cushioning that slightly softens impacts on sprints and jumps. The rubber molded studs fill up the entire forefoot area and run until the edge of the outsole. The diamond-shaped traction studs are widely spaced to allow maximum grip on firm ground turfs.
A mix of layered durability and high-level traction consistency, this cleat is one of the most recommended models for kids who are starting to play football. Its high-cut construction makes it a good alternative for baseball and tee-ball as well. The aggressive studs are nicely placed on the edge to ensure that your kid never loses grip.
The shoe fits true to size, the ⅝ height of the cleat allows for easy entry to the shoe – even wide footers would enjoy wearing it with no complaints at all.
It's not every day you stumble upon a football cleat that features a lot of tech specs for its price, but Under Armour surely hit the bullseye on this one!
Pros
Durable
Supportive
Good Fit
Aggressive Traction
Decent Cushioning
High Quality
Possible alternative for soccer and baseball? Baseball only
Top Baseball Cleats for Kids
Now, let's see if we can hit a home run as we review some of the top Baseball cleats for kids. Kids baseball cleats are going to have a toe cleat unlike soccer but they will typically have a little less padding and support than a football cleat.
The Nike Kids' Force Trout 6 is the signature baseball cleat of Los Angeles Angels center fielder Mike Trout. This signature model features a mesh and synthetic upper build-up that provides comfort and support when running from one base to another. The upper features a Flyweave on bigger sizes. The synthetic midfoot strap secures the foot, so your kids don't have to worry about slipping off their cleats when they run and slide.
You can opt to stick with your child's true size, the foot opening is spaced well enough for wide-footers.
Nike took away the Zoom Air cushioning seen on Men's sizing and went with a standard Fastflex midsole that uses Phylon foam and features multiple flex grooves on the outsole. It allows the rubber studs to dig into the ground for maximum grip.
The most expensive baseball cleat on the list, the Nike Force Trout 6 faltered a bit when Nike took away its signature specs and went with the same Fastflex system seen on other general release cleats. The shoe gets the job done, but so can other cleats that you can get for a lower price.
It can be used for football as the same midsole and stud construction are seen on other kids' football cleats.
Pros
Good Traction
Decent Cushioning
Supportive
Durable
Cons
Recent downgrade in terms of tech specs
Limited Colorways
Zoom Air is replaced with Phylon foam
Synthetic Materials replaced the Flyweave fabric
Possible alternative for soccer and football? Football only
This Under Armour Harper 4 Jr Baseball Shoe is a signature model of MLB right fielder Bryce Harper.
It's probably common knowledge that Youth shoes usually offer downgraded tech specs compared to some of their Men's sizing counterparts. The biggest difference is the entire sole, the Youth size utilizes a full-length EVA midsole and rubber molded studs on the outsole that uses thick and long nubs to grip the baseball field consistently. Pros use metallic studs, but it's not recommended for lower age groups because of possible accidents.
The high-top upper sports a durable synthetic material that can withstand wear and tear for the baseball season. A textile ankle strap secures the fit and provides a lockdown feel that can also protect your kids' foot stability while playing.
The padding is plush and comfortable, while the sizing runs true to size; you can purchase a half size up to give your kids' toes a little wiggle room as they eventually grow through the shoe.
Under Armour continues to impress with their performance footwear, and the Harper 4 Mid Jr Baseball Shoe isn't any different. It's priced well for its quality – one great purchasing factor that parents always hope to get.
Pros
Durable
Supportive
Good Traction
Fits true to size
Comfortable
Great Price Range
Cons
Limited Colorways
Ankle strap wears off over time
Possible alternative for soccer and football? Football only
Straight and simple. That's all there is to this New Balance Kids' 4040 V5 Baseball Cleat. It sports a clean and classic look – just like every old New Balance model. That's what makes the cleat great though, it's a jack of all trades – ideal qualities for a beginner's baseball cleat.
The upper is made of synthetic and features the brand's iconic symbol. It's durable, lightweight, and breathable.
The midsole appears rather thick compared to the other selections in the list, the EVA foam rises until the sidewall for lateral stability. Underneath are thick rubber molded studs that are strategically placed on areas that make contact with the ground the most. There have been a few reports about the studs falling apart after intensive use, so take note of the traction's durability issues as it may greatly affect the grip and possibly limit this shoe to one season of use.
The shoe has a low-cut build allowing for quick movements. The wide base lets wide footers stick to their usual size or probably go half a size up to ensure that there would be enough toe space.
A decent shoe that seems to give its aesthetics a retro feel, the New Balance 4040 V5 Molded Baseball Shoe does not really have any outstanding features or real drawbacks. The stud durability may turn off some parents, but rest assured that as long as the shoe is intact, it won't disappoint you and your child.
Pros
Durable upper
Thick EVA midsole
Runs true to size
Good Colorways
Cons
Outsole Durability Issues
Lacks tech
Doesn't have flex grooves
Possible alternative for soccer and football? No
The Under Armour Glyde Softball Shoe seems rather advanced for a kid's baseball cleat. It's the most affordable baseball cleat on the list and features impressive upper materials comprised of mesh, synthetic, and leather overlays to give the kids the support and comfort they need to perform at their best.
The spiky studs are also intriguing, the forefoot is filled with multiple spikes to fully grip the firm ground. The studs on the heel are thicker, so you can expect durable traction that can last a season.
A good-looking shoe that also has outstanding materials for a youth size, it appears that Under Armour hit a home run with this one – but one issue caused the baseball cleat to lose its appeal among customers. The sizing is completely incorrect, the cleats are labeled for Big Kids, but the shoe runs way smaller than a Big Kids' standard – making it a complete waste of purchase for some parents who ordered online.
Almost a good baseball cleat that failed terribly with its sizing label, the best option for parents who are looking for this shoe is to find them personally instead of ordering them online. There are better choices in the list and do not have mislabeled sizing charts. If you do order them, be sure to order up a couple sizes.

Pros
Good upper materials
Breathable
Lightweight
Cons
Durability issues
Terrible Sizing issues
Limited colorways
Buying Guide
Always remember that kids will eventually outgrow their shoes, and often rather quicker than expected. So make sure that you check all the cleat's details before making a purchase and take some time to think about which cleat is most suitable for your kid's sports.
If you're confused about the sizing, you may check our sizing chart to know the right measurements of your kid's foot and purchase the proper size. Cleats typically run a size smaller compared to sneakers so you may opt to go up half a size or a full size up to prevent restricting the kid's feet.
For versatile choices, soccer cleats can be used for both football and baseball. However, the lacking toe stud on soccer cleats may be insufficient at a high-level for football or baseball players to grip the natural fields well, so take note of any possible traction issues. Soccer cleats are also lighter and are often low-top, which may be lacking in ankle support and protection – important features, especially for football.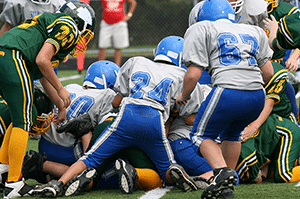 Football cleats can be used for baseball, and vice-versa. They are not recommended for soccer though, as the heavier weight and extra toe stud can affect your kid's performance when running or dribbling the ball. Baseball cleats, similarly, can be used for football practice but should not be used for soccer.
Conclusion
For athletic cleats having the right features can affect their performance. The traction studs are one of the most important aspects as it's the only part of the shoe that makes full contact with the ground – so always remember to check the outsole carefully and make sure it is right for your athlete.
Sports cleats have always been performance-specific and tech-specific, and since they can't be worn on the streets like sneakers athletes expect a lot out of them. It's important for parents to get their child a cleat that fits right and has them excited to play in their next game, whether they're competing at the park, school, or even a state championship.