Purchasing running shoes for kids can be difficult. Parents should focus on the running shoe's fit, cushioning, and traction when shopping for their child. The best kids running shoes support your child's feet and help prevent pain, blisters, or injury. Running shoes also provide good traction and soft cushioning for pounding pavement.
Top Kids Running Shoes
This review provides a guide to some of the key features parents find in kids running shoes and also rates the best available running shoes for kids. These shoes are equipped with the latest sneaker tech specs that make them just as good as the "elite" pairs; while staying below the "elite" price tag. All the shoes on our list provide fantastic support without breaking the budget.
Some parents struggle to decide if they're going to purchase a budget running shoe or opt for a more expensive choice for their child. You want to give your child's feet proper support, but even if you are willing and able to look for the best option available and spend more than any intended budget remember that your child's foot will grow very quickly. Parents shouldn't over invest in kids running shoes because they don't fit long enough to warrant it.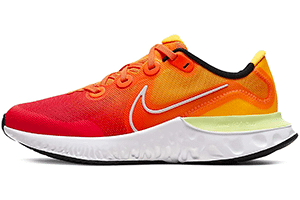 Nike's proprietary React foam was originally designed to rival the major brands' foam cushioning systems. Now this Renew foam from Nike aims to dominate the budget performance sneaker market. Nike's Renew is actually an affordable alternative to the expensive, premium React. The Renew is soft and bouncy, which can make kids feel like they're walking on pillows.
Nike's Renew Run is one of the brand's premier budget running shoes that utilize a full-length exposed dual-density foam that combines Renew and Lunarlon. The dual-density midsole is meant to provide a well-cushioned ride with stability to give your kid good impact protection while preventing any major ankle sprains.
The upper is made up of breathable mesh and Fuse overlays for a lightweight and breathable feeling that can help kids forget that they're wearing sneakers and just keep on running or playing around with no hesitation. The upper is durable and holds its structure, unlike soft, knitted uppers that lose their form after a few wears.
When it comes to traction, separated rubber pods are placed on the corner. The exposed foam covers the rest of the center of the outsole. The forefoot rubber features a coral-like pattern, while the heel section is only placed with lesser rubber to give way to the cored-out midsole to expose the foam. The shoe runs true to size. Kids can wear their normal sizing when choosing a pair.
Just like most Nike's the Renew Run is stylish and has a wide range of colorways to choose from. It's a high-quality runner that's great for kids who are starting to get into running. It can be passed off as an everyday shoe as well, due to its fashionable nature.
Pros
Great Renew Cushioning
Good Traction
High-quality for its price
Great Colorways
Fits true-to-size
Cons
Cushion bottoms out over time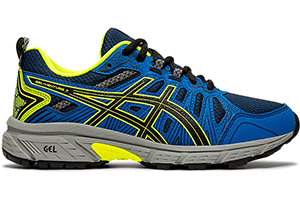 ASICS is one of the most reliable brands when it comes to running shoes and parents can feel comfortable putting their child's feet in a pair of ASICS Kids Gel-Venture. Taking a jog in these shoes feels awesome with their cushioning systems GEL Technology and their foam-based FlyteFoam. With a GEL cushioning in the heel, heel strikes feel softer and heel-to-toe transitions are smoother – important aspects in kids' running shoes to help prevent injuries.
It would be better if the cushioning ran full-length, but the forefoot of the shoe only has basic foam (presumably EVA) and is thinner compared to the rear. The upper is durable thanks to the mesh and synthetic overlay combination that also makes the shoe lightweight and breathable. Normal footers may go true to size, while wide-footers may opt for a half-size up for a better fit.
As for the traction, the rugged outsole is decoupled by a denser foam brick on the mid-foot for torsional support. The thick grooves provide consistent grip on most surfaces, so your kids can run at full speed without any hesitation about slipping. These shoes will feel fast on the track, the field, or the playground.
Overall, the shoes look great and perform well. It has bright and stylish colorways so your kids don't have to worry about flexing their running shoes. It's one of the most expensive options on this list, but for the features it offers is worth spending a little bit more on this shoe. Few other kids running shoes can provide the same comfort, style, and tech that the ASICS Gel-Venture does.
Pros
Comfortable GEL Cushioning
Durable Upper
Great Traction
Breathable and Lightweight
Vibrant Colorways
Cons
GEL cushioning could've been utilized on the forefoot
Runs a Little Narrow – Not Wide-Foot Friendly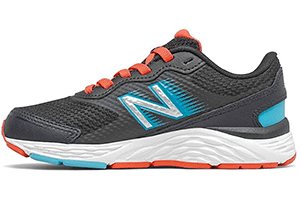 New Balance Running Shoes are always a thing of beauty and function. This New Balance Kids' 680 V6 delivers the same with full-length ABZORB cushioning and a comfortable upper that kids will appreciate.
The upper is made of perforated mesh and backed by synthetic leather on high-wear zones. This provides a lightweight and breathable everyday shoe that your kids can use on track for performance running. The base of the shoe is a little narrow, so wide footers can go half a size up.
On the midsole, the ABZORB cushioning is good enough to handle repeated impacts and landings, which is ideal for kids who live an active lifestyle. It's a strong budget option for parents who do not want to spend too much on a cushioned running shoe – New Balance's premium Fresh Foam is top-tier but very costly. Another good thing to note is the raised heel midsole (the part where ABZORB is located) acts as an additional heel cup for stability and support.
For the traction, the shoe features what seems to be a modified waffle traction pattern with widely spaced grooves for consistent grip on most surfaces. It's a tried and tested setup that will surely work on kids – whether they're on concrete or the grass.
To conclude, the New Balance 680 V6 is one of the great and affordable options on the list. Durable materials, reliable traction, and good cushioning – all that for a budget shoe is good enough for kids.
Pros
Lightweight & Breathable
Good Cushioning
Reliable Traction
Great Colorways
Fits True-to-size for normal footers
Cons
Narrow sizing for wide-footer
Adidas' Duramo line has been one of the brand's most consistent budget runners and it is ideal for starters and kids. It's a lightweight shoe that provides decent traction and comfort for casual jogs and short runs. Making its way to kids' running footwear, the Adidas Duramo SL features a breathable mesh upper and synthetic materials on high-wear areas. The synthetic suede toe rand is placed a bit askew on the forefoot area, but that doesn't really do anything because most of the wear can occur right on the toe and not above it.
For the fit, the shoe runs true to size as the regular lacing setup provides decent lockdown. Remember that Adidas has a different sizing chart compared with the likes of Nike, New Balance, and more. Some variations feature a lace + Velcro strap setup, which may provide better lockdown. It's worth noting that the Velcro strap isn't really sturdy and may wear off after some time.
Going to the midsole, Adidas stayed away from the usual Cloudfoam cushioning and utilized Lightmotion, which looks to be the budget version of the brand's latest Lightstrike foam. It's good enough for kids, comfortable and lightweight as well.
Finishing it off with the traction, the outsole sports a square-grid pattern that is widely spaced to prevent any dust and debris from getting stuck. It's decent and the rubber is thick, so it can withstand hours of running and playing around.
The Adidas Duramo Sl Kids' Running shoe is a consistent budget shoe that can give you strong quality, which is a great value considering its affordable price. This kids running shoe doesn't excel at one thing – but it's surely a jack of all trades.
Pros
Lightweight
Breathable
Great Colorways
Cons
Consistently average shoe
Some Durability issues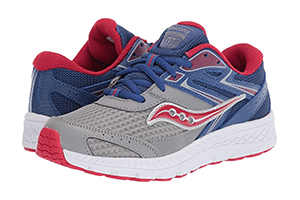 Saucony is one of the underrated brands as they consistently produce reliable running shoes for both budget and premium selections. They've been making waves recently after the unveiling of the Kinvara and the Endorphin Pro – two of their innovative running shoes that feature their latest tech. In their kids' running catalog, they have the Saucony Cohesion 13 LTT. This top kids running shoe is an ideal option for beginners and kids.
Starting with the upper, a breathable mesh and synthetic overlays make up the overall structure and build of the shoe. The forefoot mesh is slightly softer compared to the reinforced mesh from the midfoot to the heel. The synthetic overlays are added on key areas for more durability and support.
As for the cushioning, the Cohesion 13 doesn't really have any advanced tech throughout. Presumably it's just basic EVA (Ethyl Vinyl Acetate) foam, which is decent enough for kids to feel comfort and impact protection. The midsole is thick and the base is wide, so parents won't have any worries about their kids spraining their ankle easily. The traction boasts a thick, wide, and aggressive herringbone traction that runs through the entire outsole. It's reliable and grippy on most surfaces.
The Saucony Cohesion 13 LTT lacks any outstanding technology, but it's a solid running shoe that gives you exactly what you pay for. A running shoe that can last your kids long enough for hours of jogging and short distance running without feeling pain from repeated impacts.
The sizing runs a little small. Wide footers may go up to full size, while normal footers may either stay true to their size or go half a size up.
Pros
Lightweight
Breathable
Good Traction
Good Colorways
Cons
Lacks Technology
Cushion is Decent at Best
Sizing runs small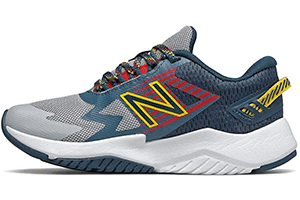 Arguably the most stylish running shoe on the list, the New Balance Rave V1 is another strong model from New Balance with a budget price. The shoe sports a breathable mesh upper upfront, and a lighter, perforated mesh on the rear. It's bridged by a synthetic overlay that features the brand's iconic N logo. The shoes are lightweight and soft, perfect for kids who like to run and play around without feeling too hot on their feet.
The shoes are true to size and have a wide base, ideal for wide-footers who are planning to go true to their size. The looped eyestays provide a more secure fit for performance running.
The cushioning on the NB Rave V1 utilizes an IMEVA midsole foam; it's decent and can be comfortable for kids who have a heavy step when they run and jump. The cushioning is also exposed on the outsole so kids can get the most out of its impact protection and responsiveness. The rubber traction covers the edges of the outsole, and an aggressive linear pattern is placed for consistent grip on various surfaces. The forefoot traction comes from the arrow-shaped midsole, which might not be ideal on wet surfaces.
Offering various colorways that can catch people's attention, the New Balance NB Rave V1 can also be worn as an everyday lifestyle shoe. New Balance makes sure kids also will feel comfortable in it during long running sessions.
Pros
Breathable & Lightweight
Great Colorways
Good as a Lifestyle Shoe
Great Fit
Cons
Lack of Technology
Cushioning is decent at best
Durability Issues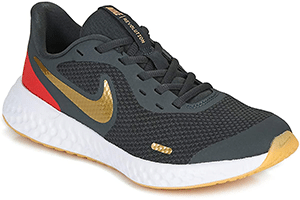 One of Nike's budget runners, the Nike Revolution 5 is a solid kids running shoe but a distant cousin from the Swoosh's premium running footwear catalog. Distant because the shoe has heavy design similarities with Nike's React Running Shoes but lacks some of the high end features.
The cushioning features what Nike claims to be a soft foam. It's probably one of the outdated proprietary foams from Nike – either Cushlon or a softer EVA (Ethyl Vinyl Acetate). It is good enough for kids, but it's nowhere near React foam – and it seems to lag behind Lunarlon as well. This is more of a budget runner designed for kids so it won't offer the same impact protection as premium Nike runners.
Similar to the React foam, the Revolution 5's midsole boasts a thick, textured outer wall that runs all the way to the outsole. The rubber outsole mimics the same anatomical texture on its traction pattern for a more natural grip. The grooves are widely spaced so dust and debris won't get stuck.
The upper is made up of mesh and reinforced with synthetic overlays on high-wear areas. It's durable and can withstand long hours of casual running and jogging. The low-cut build is fashionable enough for everyday wear – so this shoe can be a great option as a casual shoe. It's got great colorways too, so you and your kids can choose on a wide assortment of colors.
The sizing runs true to size. so normal footers and wide footers can stick with their preferred size.
Pros
Durable
Lightweight & Breathable
Fits true-to-size
Good Colorways
Cons
Cushioning isn't great
Traction is only decent
Limited torsional support
Buying Guide
Choosing the right running shoes for your kids can be difficult. Parents who are runners might be aiming to find shoes for their child that mirror their own or offer similar technology. The reality is that running shoes in the kids market are more likely using slightly outdated technology instead of cutting edge offerings.
You want to find running shoes that provide your child good comfort and support.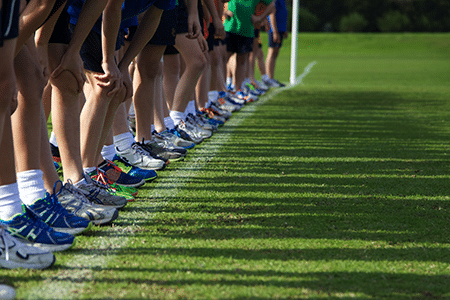 Getting cheap shoes that are flimsy won't pay off in the long run. On the other hand, kids are lighter on their feet and outgrow their shoes quickly, so overinvesting in kids shoes from a performance or durability standpoint is suspect. Our ratings and reviews work to find shoes that provide your child with a top running shoe without breaking the bank.
Traction is also important with kids running shoes. Take some time to reflect on where your child will be running and if it is on the track, pavement, sidewalk, trail or field. Some terrains might warrant a more aggressive traction pattern.
Conclusion
Hopefully, this in-depth review has provided you a guide on some of the best budget kids' running shoes that you can purchase. At first glance, choosing the right running shoe for your kids can be hard. It is, but it can be a lot easier when you first figure out what you're looking for and the features to consider before making a purchase. The traction, cushioning, and fit are always important aspects of a shoe because it defines whether a runner's going to be comfortable and supportive. Parents want to emphasize a proper balance between these three to help avoid injury.