If your kids will be at the beach or chilling by the swimming pool this summer then a good pair of water shoes is essential. The best water shoes protect your child's feet and prevent cuts or scrapes from stepping on sharp debris like gravel or pebbles. Water shoes also provide essential grip on wet and rough surfaces for consistent traction that helps them avoid accidental slips.
Best Kids Water Shoes
This review rates the best kids' water shoes to give parents a detailed guide on the pros and cons of each shoe. For some sneakerheads every detail matters but for parents shopping for kids water shoes the looks and key features are enough. The most important things when shopping for water shoes is that they are lightweight, dry quickly, and provide good traction.
Unlike regular sneakers, water shoes are mostly made up of EVA and synthetic materials, which are suitable for long walks on wet areas and some underwater activities. Water shoes are usually in a one-piece upper, with a thick foam or rubber sole underneath that protects the feet. They aren't necessarily waterproof, but they dry fast and don't hold water thanks to the ventilation holes strategically placed on the upper.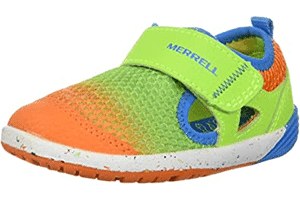 With kids water shoes most parents start off thinking about traction. The Bare Steps H2O Water Shoe grips well on most surfaces thanks to M Select Grip rubber. The rubber traction pairs well with the oblong-shaped outsole pattern that also serves as flex grooves for better flexibility. The heel portion showcases a concentric traction pattern running along the entire heel that gives the kids support, stability, and a tighter fit on the rear of the foot. It's soft enough to reduce the impact on hard landings and long walks.
The entire upper is made with ventilated textile for breathability and easy removal of water, then reinforced for lasting durability with synthetic leather on high-wear areas like the toe and heel. The Velcro strap provides the main fit of this shoe, and kids find it easy to slide in and lock their foot because of the strap system that is built-in along with the midfoot panel. Sizing can be a bit tricky as the shoe seems to fit better on narrow-footers, so it's advised to check the size guide and identify if it's ideal to go half a size up or stay true to size.
Pros
Lightweight
Breathable Upper
Flexible Sole
Fits well on narrow-footers and normal-footers
Cons
Tricky sizing for wide footers can cause blisters
Velcro strap wears off over time
Limited colorways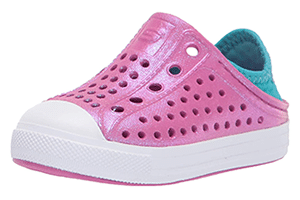 This one's dazzling with elegance! The Skechers Child Foamies Water Shoe boasts a shiny and colorful perforated upper made with EVA (Ethyl Vinyl Acetate), which makes up the majority of the shoe except for the separate neoprene heel sock. It's easy to put on, but parents must be wary of instances wherein the back of the shoe is stepped on, as the neoprene is sewn on the heel base and can be ripped off the shoe. Otherwise, the sole is actually in one piece and glued together, making for a pretty durable water shoe that's also well-ventilated. The herringbone traction pattern gets the job done as the wide spaces on each line don't fill with dust and debris.
When it comes to sizing, the shoe doesn't have laces and is basically a slip-on. Wide-footers may order a half-size up, while normal-footers may go true to size.
Parents should resist picking a narrow-fitting size, as the neoprene sock on the heel may cause blisters and chafe the skin.
Overall, the Skechers Foamies Water Shoe is a good option before and after swimming sessions, as the EVA upper dries up fast and easily drains away any water inside the shoe. This water shoe is also much more versatile as it can be worn out for quick trips to the mall and other outdoor areas.
Pros
Durable upper
Breathable
Versatile
Shiny colorways
Cons
Neoprene heel sock has durability issues
Neoprene heel sock can chafe the heel
Non-adjustable fit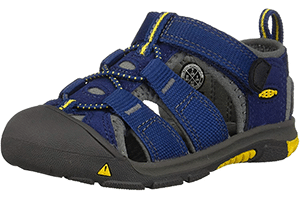 A completely ventilated shoe that also protects the toe with an EVA toe shell, the KEEN Newport H2 Sandal Water Shoe is a versatile option that works well in all activities. Whether the kids are playing on the grass or the field, the sandal provides great traction that grips the surface well. Kids don't feel weighed down in this shoe thanks to its rugged traction pattern that also acts as flex grooves for better mobility when playing around.
The upper is made with polyester and forms the sandal structure of the water shoe. You may notice the laces that are looped around the external eyestays, they are actually just placed for aesthetic purposes that add to the overall structure of the shoe. Don't worry! They aren't responsible for the shoe's fit. The Velcro strap on the collar provides the main fit of the shoe, it encloses the asymmetrical sleeve so kids can easily adjust the shoe according to their preferred comfort.
The midsole is a basic EVA foam. The cushioning is aided by KEEN's Metatomical footbed, which helps the kid's foot to feel comfortable even after hours of activities. With these sandals they won't feel too much stress, especially on the metatarsal joint. Overall, the KEEN Newport H2 is an all-around durable sandal that can easily be worn and is washable, so parents don't have to worry about their kids getting dirty when playing.
Pros
Durable
Fits true to size
Good Traction
Strong Toe cap
Cons
Not waterproof
Velcro wears out over time
Limited colorways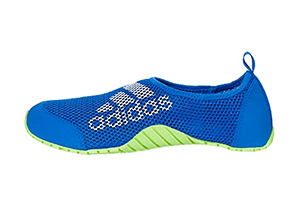 Get a ventilated mesh sock upper and slap it with an arched sole, then you get this Adidas Outdoor Kurobe K Kids Water Shoe. It's lightweight, extremely breathable, and has just enough lateral stability that kids can play around without the need to worry about suddenly spraining their ankles. The sizing runs a little low – Adidas' shoe sizing is tighter and a tad different from other brands so take note of that. With that said, you better go half a size up for normal footers and about a full size up for wide footers. The shoe is easy to put on, but choosing the right size is important as a tight fit can be too restrictive and chafe the back of the ankle due to the padded lining beside the heel tab.
The outsole of this water shoe does just fine as the thick sole features a rugged traction outsole and a geometric pattern right along on the midfoot. The mudguard is stitched on the toe for extra protection and structure.
The verdict? It's a straightforward water shoe that doesn't excel in one thing but does everything just fine. Parents must be mindful of Adidas sizing so they choose the right fit for their kids and avoid any blisters or wounds on the foot.
Pros
Lightweight
Attractive
Breathable
Good Traction
Cons
Sizing runs a little narrow
No cushioning
Heel panel can chafe the skin
Limited colorways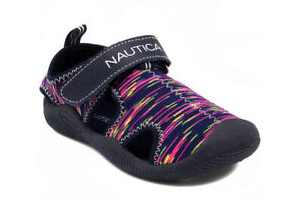 One of the more affordable kids' water shoes on the list, the Nautica Kettle Gulf Protective Water Shoe is a promising shoe with its attractive styling and rubber toe shell. A velcro strap keeps the foot secure and protected throughout any physical water activities. It's also lightweight due to its mesh upper with open panels, right on the midfoot and the forefoot.
This shoe definitely seems priced right, but several issues can turn off potential buyers, especially parents who are looking for a budget pick that lasts long.
The first issue is the sizing. The water shoes completely run big, which can affect the overall fit and stability of kids when playing. Shoes that fit too long result in sloppy footwork – which may cause them to slip and fall. The second issue is the traction's durability. The rubber sole makes up the entire bottom half of the shoe, but the traction pods in the heel and forefoot are much softer. It's made that way so the shoe can grip better, but it compromises the overall durability of the water shoes – especially when worn outdoors.
In conclusion, you get what you pay for. This kids water shoe has great qualities overall, but the sizing and traction durability issue may put off some parents who are expecting the shoe to be worn by their kids as they continue to grow.
Pros
Great colorways
Affordable
Lightweight
Breathable
Cons
Size runs too big
Traction pods are soft
Minimal cushioning
Compromised durability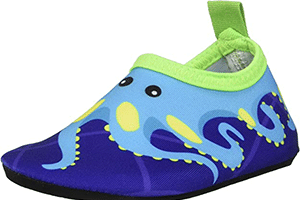 A common trend in kids' water shoes seems to lie on the cuteness of the shoe and the price, before the quality itself. These affordable Bigib Toddler/Kids Swim Water Shoes look to combine the best of both worlds. Literally a graphic-printed fabric upper slapped with a thin sole, the Bigib Water Shoes is lightweight, extremely breathable, and easy to put on. There are a myriad of designs to choose from, varying from cute sea creatures such as an octopus, crabs, turtles, and dolphins to various aquatic scenes. Below, the thin rubber sole provides grip on most surfaces – so parents won't have to worry about their toddlers slipping and sliding on the poolside.
For its sizing, the shoe cannot be adjusted, so it's better to go half a size up or even a full size up to ensure that the shoe would fit. The sock-like opening is rather narrow, so be careful in choosing too small of a size as it may restrict ankle mobility.
The most affordable shoe on the list, this kids water shoe is good enough for its price and is perfect for parents who want their kids to look good and stylish during the summer season. However, don't expect the shoe to be ideal for long walks and outdoor activities. It's better off as a poolside fashion shoe for babies to match their cute clothes then as a durable slip on for kids to use all summer.
Pros
Affordable
Lightweight
Highly Fashionable
Great Colorways
Comfortable
Cons
Not waterproof
Sizing runs a bit narrow
Questionable Durability
Thin Sole
Non-existent Support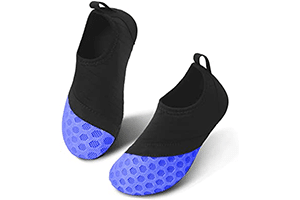 If your kids feel like ninjas on a hot summer day filled with adventure, then these stealthy JIASUQI Aqua Socks are your best bet. Made with highly water-resistant fabrics Polyester and Spandex, these water shoes are good enough for the beach to protect your kids' feet from the scorching sand during peak sun hours. The shoes are stretchable, so you can go true to size without the fear of wearing something that restricts the foot from moving. Most variations don't have a midfoot strap while some do, but the fit is great either way. The rubber soles feature different rugged traction patterns depending on the colorway – it provides great grip on most surfaces, even indoor leisure activities. However, there are reports where the shoes start to wear off when worn in water parks for hours onend.
Easy to wear and comfortable, these aqua socks fit snug enough that you may even forget that you're wearing something on your feet. It's a versatile water shoe that has different iterations for kids of all ages, from toddlers to big kids. The JIASUQI Water Socks is a good option for parents who are looking for a mid-budget shoe.
Pros
Lightweight
Fits true to size
Stretchable Upper
Great Colorways
Affordable
Cons
Material may fade over time
Little to No Structure
Lacks Arch Support
Buying Guide
Choosing the right water shoe for kids can be difficult as children tend to prefer style over quality and function.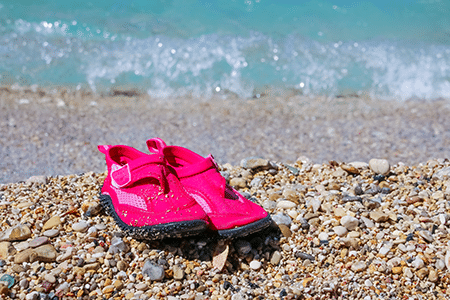 Parents should take note that most water shoes feature the same materials – just with different looks and brand names to set each one apart. The best feature to look for is traction and then parents should focus on the material and the sole, as these are the basis for the shoe's overall fit, support, and cushioning. While some are intended for the beach, others are not ideal equipment for swimming pools and water parks, as the shoes may fall apart when soaked too long underwater.
Always keep in mind your kids' size to make sure that the shoe will fit them well. The majority of the water shoes in this list are quite stretchable so they should last for a few summers as they grow. Either way, always consider the budget and weigh the options depending on the needs and qualities you look for in a kids' water shoe.

Conclusion
Now that the list has tackled some of the best kids' water shoes to choose from, we hope you can identify the similarities and differences of each shoe regarding traction, sizing and fit. Some brands are suitable mainly for outdoor activities, while some are strictly better on the beach. It's up to the parents to identify what they're looking for in a water shoe, if you're planning to go on a trip to the beach, then the elastic sock-like water shoes from JIASUQI, Adidas, Bigib, and Nautica are your best choices. For outdoor fun and leisure activities, Merrell, Skechers, and KEEN, will provide you structure and support as your kids run, jump, and swim all around the area.
Parents should make sure that they find a shoe that fits their child's feet well and provides good traction. Whatever your kids are wearing, the most important thing is their safety while they enjoy swimming and playing.