Taking kids outdoors to hiking trails and fun terrains is a great activity that familiarizes them with nature and teaches them about the basics of the environment. Hiking is also great exercise for kids as they wander around a nature area and learn to walk, run, and play outside. Parents and children that hike together can bond out on the trail, and giving your child a love of hiking can be a lifelong gift.
Top Kids Hiking Shoes
A great way to help spark your child's passion for the outdoors is with a pair of hiking shoes or boots. The top kids hiking shoes provide strong traction, sturdy ankle support, and quality construction that can hold up outdoors.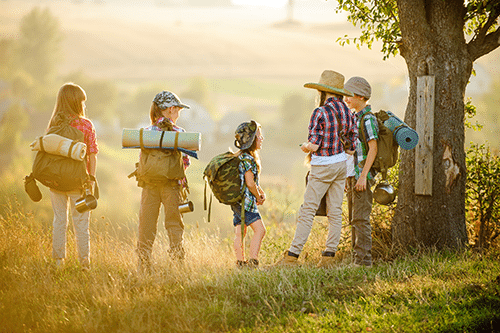 Getting a pair of hiking shoes for your child can get them more excited for the trail while also helping keep their school shoes clean.
Our list of the top hiking boots for kids looks at the highest rated shoes for providing your child a safe, supported experience hiking out on the trail. All of these shoes offer great traction over unsteady terrain and clean up easily after a long day outdoors.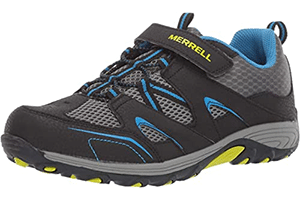 The Merrell Unisex-Child Trail Chaser Sneaker is a durable kids' sneaker that is comfortable out on the trail due to its leather, suede, and mesh upper combination. The shoe composition makes it very breathable but it can still withstand tough outdoor plays and hikes. This is an everyday sneaker that kids can comfortably wear at school during the week and on a hike over the weekend. The shoe is a low-top build but that isn't something to worry about as it laces high up and a hooked Velcro strap on the ankle collar provides a secure and snug fit to avoid any heel slips. An EVA (Ethyl Vinyl Acetate) foam is placed on the midsole for comfort and impact protection on strenuous activities. The M Select Grip with a lug-inspired traction pattern increases grip outdoors but is also non-marking and suitable for all surfaces.
Pros
Durable
Breathable Construction
Great Traction
Good Fit
8 Bright and Eye-Catching Colorways
Cons
EVA cushioning is a bit thin
The Velcro strap can wear out
Low Top Construction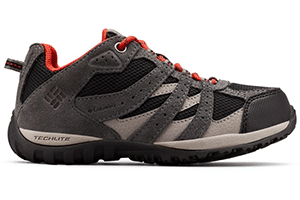 Columbia continues to work their way into the upper echelon of outfitters as they provide quality waterproof boots and hiking shoes suitable for every age. This Columbia Redmond Hiking Shoe aims to break through with a durable and comfortable leather and synthetic upper packaged in an attractive design. Parents might take note of the synthetic material as it may wear out, especially the toe rand, but nevertheless the rest of the upper is well done. Techlite cushioning provides good impact protection that is ideal for children hiking uphills and other outdoor adventures, while the Omni-GRIP outsole provides durable and grippy traction on any surface.
This kids hiking shoe is available in various colorways, and the shoe can stand out well among the crowd due to its colorful accents and unique overlays.
Pros
Comfortable with Good Cushioning
Dry and Wet Traction
Attractive Colorways
Cons
Not Waterproof
Synthetic Material on the Toe can wear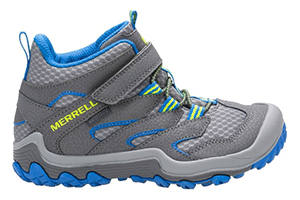 Merrell's Hiking boots have always impressed adults and the company brings that same impressive approach to their kids' hiking shoes. The boots sport a mesh base fabric for breathability and stitched leather overlays on high wear zones for durability. The Merrell Kids' Chameleon 7 Access Mid Waterproof Hiking Boot also utilizes looped eyestays for a more secure fit that is suitable for children's growing feet. The mid-cut boot is surprisingly lightweight and suitable for various activities done by kids off the trails including playing on the field. The EVA midsole provides decent cushioning for comfort and impact protection. An M Select Grip makes up the lug-inspired traction pattern for long-lasting grip on different surfaces and terrains. Three colorways are available including a cool Berry color targeted at girls.
Pros
Great Traction even on wet surfaces
Mid-cut build provides a secure fit
Durable Materials
Cons
Expensive
Not truly waterproof
Sizing is tricky, they run big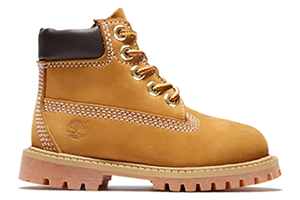 Timberland is well-known for its durable and stylish boots that catch everyone's attention from the trail to the club. The famous 'Wheat' colorway can easily turn heads due to its vibrant tonal upper that is attractive to adults and kids alike. This Timberland Kids Premium Waterproof Boots for Toddlers boasts the same aesthetic seen on the larger sizes designed for adults. Made with real leather, the boots are waterproof and work well outdoors. The rugged traction pattern can grip any surface well – making it ideal for kids who join their parents during hikes and trails without any hesitation in their movement.
These shoes boast a comfortable footbed and a steel shank within the midsole for arch support. Timberland has been one of the leading brands for years when it comes to boots and outdoor shoes, and this rendition specifically tailor-made for kids can provide style, comfort, and functionality all in one. There are various colorways that feature different materials, which is a huge plus and makes it easy for parents to choose a pair that their kids love.
Pros
100% Waterproof Leather
Padded Interior For Comfort and Support
Great Traction
Durable and Sturdy
Great Assortment of Colorways
Fits true to size
Cons
Expensive for a Kid's sizing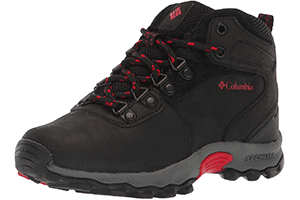 Another reputable outdoor brand that is working to provide a waterproof hiking boot suitable for kids is Columbia with their Newton Ridge Leather Boot. This kids shoe delivers features that are normally reserved for adult hiking boots – synthetic leather, mid-cut build, waterproof upper, and an aggressive rugged outsole. It's lightweight, fits well, and has its own midsole. All essential aspects of a trail shoe.
Inspired by mountaineering shoes, this hiking boot provides a trail-inspired traction pattern and a good cushion, thanks to the Omni Grip rubber and Techlite foam (it appears to be just a softer EVA). The upper of this shoe is sturdy and can withstand small drops of water. Concern comes from a reported issue on this shoe of possible sole separation caused by poor gluing techniques.
Pros
Sturdy and Protective Upper
Soft cushioning
Fits true to size
Rugged Outsole
Cons
Reported Sole separation issues
Not fully waterproof
Limited sizing, no half sizes
Plain and bland colorways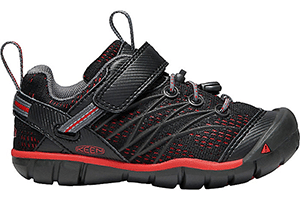 The KEEN Chandler CNX Hiking Shoe does a great job combining function and style to produce a kids hiking shoe that can also be worn to school or for everyday activities. The hiking shoes have a mesh upper that is lightweight and breathable. Kids' feet sweat a lot and the breathable upper helps their feet stay cool when running around and hiking through difficult terrains. Synthetic materials cover the toe and the lace collar for added durability. Linear rubber strips are placed along the midfoot to reinforce the structure and reduce the possibility of the mesh upper tearing off.
The shoe sole has a lug-inspired traction pattern with a molded contour arch on the medial side that completes the bottom part of the shoe – it provides consistent traction on most surfaces while the arch provides good torsional support.
Pros
Good Traction
Versatile
Attractive Design
Lightweight and breathable
Cons
Minimal cushioning
Limited colorways
Durability concerns with reported Sole separation issues
Price doesn't match shoe quality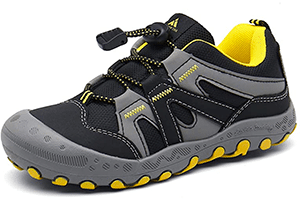 The Mishansha Hiking Shoes for boys and girls eschews the usual lacing system and instead utilizes a quick pulling lace system with bungee cords so kids don't have to worry about lacing their shoes – just a quick pull to tighten the cord and they're good to go with a secure fit. These hiking shoes are made up of mesh and knit with a synthetic material overlaid on high-wear areas. Mishansha shoes feature a rubber-rounded sole that covers the entire foot from toe box up to the heel for added protection on your child's feet. The sole absorbs impact during accidental collisions when playing or hiking. Traction comes from different lines and shapes that complete the outsole of this hiking shoe. Parents looking for a good outdoor "do-it-all" shoe for their kids that lets them enjoy playing around the field or hike through rocky terrains without restricting their movement should consider this shoe.
Pros
Easy to put on
Rubber on the toe box provides more support
Lightweight and Breathable materials
Good colorways
Cons
Lacks extensive cushioning
Synthetic rubber sole is flimsy
Instability issues due to rounded sole
Limited Ankle support
Buying Guide for Kids' Hiking Shoes
Buying shoes for kids is always a bit tricky because they will certainly outgrow their shoes within a matter of months or years, so investing in an expensive pair of hiking shoes can be a waste of money. Often hiking shoes are judged on their durability and ability to last a lifetime so if you invest in good hiking shoes they will likely be a hand-me down one day.
Just like most kids basketball shoes and lifestyle sneakers, several factors must be considered when buying hiking shoes. Remember that hiking shoes are not just for climbing mountains and going camping. Hiking shoes for kids are actually one of the most versatile sneakers they can wear for their age. The shoes are supportive and grippy enough to keep them safe when running on grass fields and other slippery surfaces.
Sizing Hiking Shoes
Choosing the right size can be tricky with kids hiking shoes, especially for online orders. Hiking shoes often have a larger toe box to help protect feet so they can appear a bit clunky.
Parents should know their kids' shoe length before ordering and use the kid's current shoes as a basis. Remember that having your child wear a proper-fitting shoe helps secure their foot inside the shoe and prevent heel slips and instability during activities. Also remember that Kids' sizing is different compared to large sizes; Grade School size is usually the common name for kids' sizing, but there are also more specific sizing guides like Toddlers, for 1 to 4 years of age, Little Kids, for 4 to 8 years of age, and Big Kids, for 8 to 12-year old kids.
There are various brands of kids hiking shoes with different designs ranging from a hiking boot look to more of a sneaker feel. A good colorway from a respectable brand may work its magic and turn into your kid's favorite shoe and wear them every day – making your purchase worth it.
Waterproof Hiking shoes
Finding a pair of truly waterproof shoes for children is difficult. Kids feet sweat a lot so the emphasis is often more on breathability and having shoes that dry fast. Parents should take note of the materials, and not fall victim to some shoes that claim to be waterproof but actually are not. Also note that leather and synthetic uppers may last long, but soaking them long in water will damage them.
Remember that kids will outgrow their shoes a lot faster than expected, so don't spend too much on a pair.
Qualities of a Good Kids' Hiking Shoe
Choosing the right fit and features of a hiking shoe is important. The focus on these shoes is primarily on traction and cushioning, two things that are essential to keep the children's ankles supported and secure while hiking. The best kids hiking shoes provide stability without compromising their mobility when running around various terrains.
Kids hiking shoes are actually stripped of unnecessary features to keep them lightweight and suitable for a broader set of activities like running on the playground and playing in the backyard. Mesh and synthetic leather are the most common upper materials used on Kids' hiking shoes. Parents should be aware of that because some fabrics may easily rip and tear apart during long walks or when doing rough activities.
Conclusion: Best Kids Hiking Shoe
Kids' hiking shoes aren't just for muddy terrains and rocky trails! These shoes can also be stylish, fashionable, and comfortable enough to wear to school without compromising their functionality on the trail. Kids enjoy a good pair of trail shoes because they provide good traction and cushioning to the wearer.
Parents should remember that the right equipment is essential and a good pair of kids hiking shoes can help avoid any accidents on the trail. The hiking boots on this list provide kids with sturdy support on the trail and might help stoke their passion for being outdoors.