The top basketball shoes for boys and girls provide good traction and firm ankle support while still being flexible enough to support sharp cuts to the hoop. Maybe more importantly, the shoes should make your child feel good and athletic and ready to play. When boys and girls lace up their basketball shoes to play in the gym something magical should happen. We all still want to 'Be Like Mike" a little bit and maybe after all "It's Gotta Be the Shoes."
Top Kids Basketball Shoes
Kids playing a lot of basketball need shoes that support them differently than a tennis shoe or running shoe. Basketball shoes are engineered to offer exceptional support at the ankle as many of the sports injuries that occur are twisted or sprained ankles that happen when feet get tangled. Basketball shoes should fit securely and hold your child's feet firmly in place. Parents want to find basketball shoes that their child can lace up tight or ideally ones that offer a velcro strap.
Young boys and girls playing basketball have their own idea of what shoes they need. Often they want a shoe that looks great or that is endorsed by one of the most popular players. Parents should be careful when shoe shopping and avoid overpaying for kids basketball shoes. Remember that your son or daughter will grow out of these shoes quickly and if you are saving them exclusively for indoor basketball they won't get a lot of use. Keeping a pair of basketball shoes just for indoors is a luxury, but it really helps the game and the player and the court.
Our list of the top basketball shoes looks at the highest rated shoes for providing your young basketball player a safe, secure shoe at a smart price. All of these shoes have non-marking soles and parent's should be sure to purchase shoes marked GS (grade school) for kid sizing.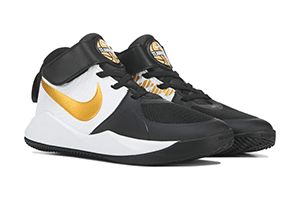 Nike provides a reliable shoe for the hardwood with the Team Hustle D9 Basketball Shoe. It has a rubber sole mounted on a foam midsole to make for a lightweight shoe with good traction. This basketball shoe is flexible with good cushioning. It has tie laces and a leather upper to provide ankle support but no velcro straps to lock it down tight.
Pros
Lightweight
Good Cushioning
Nike Quality
Cons
No Velcro Strap
Limited Colorways
Less Breathable Materials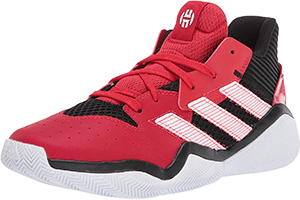 Youth basketball players looking to model their game after NBA MVP James Harden should take a look at the Adidas Stepback Sneaker. The synthetic rubber sole delivers good traction and extends up over the midsole to make for an especially durable basketball shoe. The herringbone pattern on the white sole makes for an attractive shoe. These shoes look great on the basketball court and are quite comfortable to hoop in.
Pros
Good Traction
Great Design
Enhanced Durability
Cons
Premium Price
Limited Ankle Support
No Velcro Strap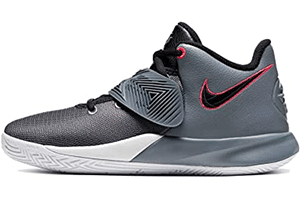 Kids looking for a tighter fit on their basketball shoes should try out the Kyrie Flytrap III 3 from Nike. These basketball shoes boast a velcro toe strap to compliment the tie shoelaces. These Kyries are lightweight and flexible with a foam midsole that also provides good cushioning. The traction has flex grooves so that the rubber sole stays malleable and supports players starting and stopping strong cuts to the rim.
Pros
Flexible Sole
Attractive Styling
Great Traction
Cons
Premium Price
Less Stability
Questionable Durability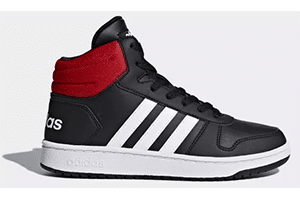 Parents shopping the Adidas brand for basketball shoes but looking for a less expensive option than the Harden Stepback Sneakers should consider the Adidas Kids Hoops Mid 2.0 Basketball Shoe. This basketball shoe is one of our smartest budget buys with a low cost that helps make it more feasible for young kids to maintain an 'indoor only' basketball shoe. The Hoops Mid 2.0 features a rubber sole for good traction and a boot opening that provides great ankle support. These shoes are a bit more rigid than the Hardens and not as flexible in the sole. For some players this stiffer shoe might be a bit preferred as it can provide more support to young players.
Pros
Great Price
Good Ankle Support
Very Durable
Cons
Stiffer Sole
No Velcro Strap
Muted Styling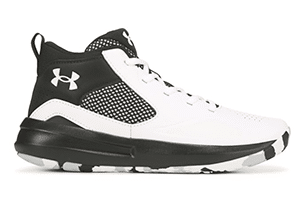 Under Armour brings to the basketball court a solid grade school shoe that provides good traction and attractive styling for hoopers. The Lockdown 5 has a thin rubber sole mounted on a foam midsole to make for a lightweight shoe that feels great on kids feet. The lace up sneakers provide good ankle support with a strong, stiff back that allows kids to tie them up tight. These shoes come in five colors with a more traditional design that looks great on the hardwood.
Pros
Great Durability
Breathable Fabrics
Lightweight
Cons
No Velcro Strap
Traditional Design
Limited Colorways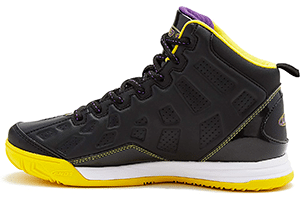 The Kids Show Out Basketball Shoe from AND1 is a great lightweight shoe that provides parents with a low cost option for outfitting young basketball players. The shoe looks great with nearly a dozen colors available and attractive offset color stitching that enhances the design. These high tops provide great ankle support with a tie lace system that lets kids get a tight fit. The bottom sole is rubber and the shoe has a thin midsole that helps kids feel more connected to the court.
Pros
Priced Right
Good Ankle Support
Great Styling and Colorways
Cons
Limited Cushioning
Hard Sole
Stiff Fit
Top Basketball Shoes: Buying Guide
It can be difficult to shop for kids basketball shoes. The market is full of very expensive options that cost a lot more but don't necessarily deliver better performance. With these ratings and reviews the focus is on strong brands that have quality products at a reasonable price.
Our top shopping tip is to give kids choices. Kids should feel great in their basketball shoes, and parents play a big part in getting them excited about their options. One of the most important things is to give your child options. It is ok to narrow down the choices that they can pick from, but ultimately children will have a lot more fun lacing up shoes that they had a hand in choosing.
Our second top tip when shopping is to stay away from the expensive shoes. Your child has a foot that is growing fast and putting them in expensive shoes will probably not pay off in better performance. A lot of quality basketball shoes are available at a reasonable price. Understand also that as your son grows they might start to have the same shoe size as adult women, so the sneaker market for middle school boys shoes is actually quite expensive from adult women buying GS grade school versions of hot sneakers that sell out in adult sizes. The deadstock market for shoes has made the high end Nikes that your son covet's a real expense.
Knowing your child is also an important way to find the right shoe. If your son or daughter is built like a fawn with thin legs you probably want to be sure that they have shoes that provide extra support through the ankle. Basketball is a game where feet get tangled and ankles get turned so ankle support is an important emphasis on young kids with gangly feet. Truly every player on the basketball court needs good ankle support and making sure shoes fit tight around the ankle is key.
Conclusion: Top Basketball Shoes
Parents shopping for kids basketball shoes have a lot of options. It is important that parents move away from the running shoes or tennis shoes and focus on finding their child a basketball shoe that provides support up through the ankle. A mid-top or preferably a high-top shoe is a smarter, safer option for your child to play basketball in than a low top. Our ratings and reviews focus on shoes that can provide your child support on the hardwood no matter if they want to play guard, center, or forward. All of the shoes on this list are reasonably priced so that parents can give their kids several options and ideally find the shoe that is perfect for them.