When sneakerheads decide to flex their sneaker collection and wear a fresh pair of all-white sneakers like the iconic Triple White Air Force 1s, white leather Air Jordan Retros, or the comfortable OG Adidas Ultraboosts, various sneaker protection products and sneaker cleaners are essential to keep the shoes fresh and looking brand new even after multiple wears. The best sneaker cleaning kits not only get rid of dust and dirt particles on the shoe – they also protect the sneaker's primary upper material to prevent wear and tear from forming when worn for longer periods of time.
Best Sneaker Cleaning Kits
The best sneaker cleaning kits will contain cleaning solutions and a brush. Most sneakerheads primarily consider the type of chemical used in cleaning solutions, while some look at the bristles of the cleaning brush to figure out if their sneaker can handle it.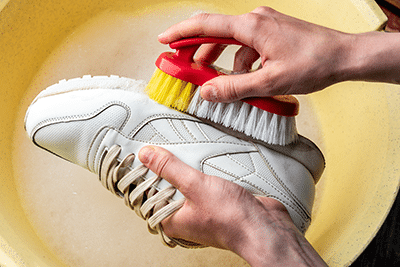 That's how sneakerheads are, they always pay attention to the details when it involves the most precious sneakers in the collection.
It is also important to note what kind of fabric is used on the sneaker's upper before deciding on which shoe cleaner to purchase. Mesh and leather upper materials are almost often highly effective with all sneaker cleaning products, while suede and corduroy often require a special type of cleaning to get the best results without damaging the upper.
Best Sneaker Cleaner: Pink Miracle Shoe Cleaner Kit
It's been on the market since 1985 and still going strong as it has proven itself to be an effective shoe cleaning kit that works well on every sneaker imaginable. Whether it's an Air Jordan, an Adidas runner, or simply a leather moccasin used for daily travels at work, the Pink Miracle Shoe Cleaner can solve almost any problems regarding stains and dirt on shoes.
Runner Up: Jason Markk Essential Kit
One of the modern sneaker cleaning kits that also aims to bring a cost-effective and biodegradable product, the Jason Markk Essential Kit focuses on creating a cleaning solution that works well even on sensitive foam midsoles and soft upper fabrics. The only downside it has is it includes a standard brush that is only suitable for a sturdy fabric like leather and hard areas like cup midsoles.
Budget Pick: Angelus Easy Cleaner
A great shoe cleaning package that includes a cleaning solution, a brush, and a microfiber towel, the Angelus Easy Cleaner is an affordable option for those who are just starting to invest in sneaker cleaning products. It has qualities that are good enough for its price and key extra items are included to help save the sneakerheads some money.
Sneaker Cleaner Buyer's Guide
Sneakerheads may be just a tad bit too critical when purchasing sneakers, and often it is the same situation for them when shopping for their sneakers' best companion, a shoe cleaning kit.
The tech specs are read carefully just like their local daily newspaper, looking for that very keyword that can convince them to purchase a sneaker cleaner. Can't really blame them as a poor product may ruin their favorite shoe. That's why it's important to find a premium shoe cleaner to go along with premium sneakers.
Several factors must be considered when hunting for a sneaker cleaner including its price, reliability based on recommendations, and its material compatibility. Shoppers can go for a complete package that includes the cleaning solution with the brush, towel, and wipes, or they can opt for a quick and easy-to-use spray to effortlessly take the dirt and stains off.
Whatever your choice is, to avoid any possible sneaker damage it's essential to read the label the same way sneakerheads read sneaker reviews.
Best Sneaker Cleaning Kits In-Depth Reviews
Now lets take a look at some of the top sneaker cleaning kits.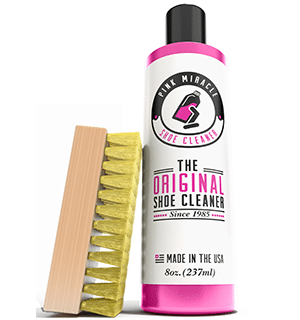 Key Features at a Glance
Proven and tested since 1985
Works well on all washable fabrics
Long-lasting and cost-effective
Made with saddle soap, gentle oils, and conditioners
Dimensions and Specs
Made in the USA
8 Oz. bottle can last and can be used for many shoes
Standard Brush
Non-toxic
The Details
Step aside as the 'OG' is here, the Pink Miracle Shoe Cleaner Kit continues its strong run as one of the best shoe cleaning products on the market. Its 8 Oz. cleaning solution concentrate only needs a few drops to truly make a 'miracle' and clean the entire sneaker from the midsole to the upper. The standard brush comes along in the package and uses its soft bristles well to get rid of dirt and stains on the shoe. This shoe cleaner is also a bit on the expensive side but its cleaning magic makes it a great investment for sneakerheads seeking a reliable cleaning kit for their sneaker collection.
The Bottom Line
There's a reason why it's still making waves even after its debut in 1985. Just like the Jordan retros, this Pink Miracle Shoe Cleaner Kit also has its own kind of magic that continues to bring clients from one generation to another. It doesn't even need a special kind of brush to make its cleaning effective. This shoe cleaner is an "old reliable" that can save users money as the 8 Oz. bottle is enough to give their sneakers a 'pamper' treatment.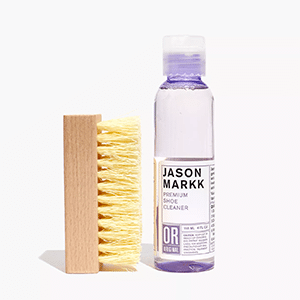 Key Features at a Glance
Safe to use on all colors and materials
'Standard' Brush made of synthetic bristles
Cleaning solution has no harsh chemicals
Suitable for all exterior sneaker parts
Dimensions and Specs
4. Oz Cleaning Solution claimed to clean at least 100 pairs of shoes
Made in the USA
Biodegradable
The Details
Probably one of the most highly-praised shoe cleaners by sneakerheads, the Jason Markk Essential Kit is one of the highest-priced sneaker cleaning kits not only on this list but also on the market. Don't underestimate the versatility of the 4 oz cleaning solution, as it can be applied on almost all upper materials such as leather, nubuck, canvas, suede, and knit. It's also safe to use on the shoes' midsoles and doesn't cause sole separation. The cleaning solution is partnered with a standard brush made with synthetic bristles that are truly standard by all means, it's suitable and effective only for midsoles and leather uppers. It may cause fraying on softer fabrics like mesh and knits. However, the brand also separately offers a premium brush made with soft hog bristles and handcrafted walnut wood for the handle that is supposedly effective on all upper materials and midsoles including Boost.
The Bottom Line
It can be considered painfully expensive due to its price and the 'premium' brush that should've been included in the kit but is instead sold separately may even add pain to one's wallet, still the Jason Markk Essential Cleaning Kit is also the definition of complete cleaning treatment that is meant to "pamper" sneakers and give them a break after hours of 'flexing' them outdoors or at the mall. It deserves its hype as the small 4 oz bottle does prove to work well on multiple shoes, but the standard brush may be an issue for some so be very careful and gentle while stroking the soft and sensitive upper fabrics. A great sneaker cleaning kit option for those who are willing to spend much on taking care of their sneakers.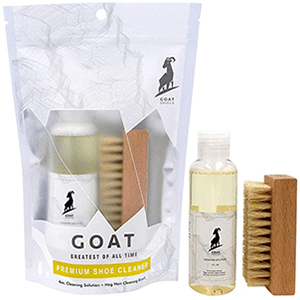 Key Features at a Glance
Suitable for most types of shoe upper fabrics (except dyed suede)
Easy to wipe off with cloth or towel
Hog Hair Brush works great without damaging upper material
Cleaner Solution contains no harmful chemicals
Dimensions and Specs
98% All Natural Cleaner Solution (4 Oz.)
Hand-crafted Hog Hair Cleaning Brush
The Details
Trying to prove a statement as the 'Greatest of All Time'; this kit is a straight-up shoe cleaner that includes two essential items in the cleaning solution and the premium hog hairbrush. A product that can definitely get the job done on just about every upper material including leather, suede, and even knitted uppers found on many trainers and basketball shoes. The cleaning solution doesn't contain any toxic smell and can easily be used as you simply dip the Hog Hair Brush with water and apply the solution. A pair of just purchased white sneakers are the perfect proving ground to fully know the cleaning capabilities of this sneaker kit and it passes with flying colors.
The Bottom Line
Its self-proclaimed name may be arguable, but it does its purpose decently. Although sneakerheads can clean their shoes using basic soap and water just the same, using this cleaning kit won't risk damage to the sneaker's upper nor will it discolor the dye of the shoes. You get what you pay for and the results can show a slightly noticeable difference before and after when used on white sneakers with plain upper fabrics. Although it should be noted that some suede uppers are sensitive and are easily damaged even with the slightest drop of water so it's better to apply a few before fully starting the clean-up. Lastly, some sneakerheads preach caution when cleaning a Boost midsole with this shoe cleaner as Boost foam cushioning technology is sensitive and may change its density when mixed with the cleaning solution.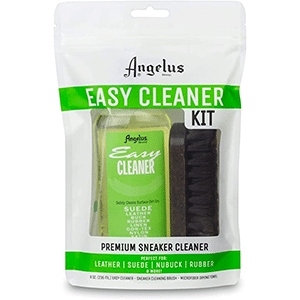 Key Features at a Glance
8 Oz. Easy Cleaner Bottle great for sneakerheads on a budget
Includes a premium Microfiber Towel
"Premium" Cleaning Brush
Dimensions and Specs
Cleaning solution has part Acrylic for its color
Measures 4.15 x 3.15 x 7.3 inches
Hairbrush with good old wooden handle
The Details
Talking about one of the more affordable sneaker cleaning kits on the list, the Angelus Easy Cleaner Kit comes with an 8 Oz. Cleaning Solution with a green color that stays true to the theme. It's accompanied by a wooden hairbrush for easy brushing and finished off with a premium Microfiber towel to dry the shoe after the clean-up. It's suitable for upper materials that have leather, suede, nubuck, and even rubber.
The Bottom Line
Highly recommended for sneakerheads looking for a sneaker cleaning kit on a budget because the main spending priority is on sneakers. It works on leather and other straightforward upper materials. Some may run into issues if used on intricate fabrics like synthetic suede and nubuck as these materials can cause discoloration, especially on poorly-made sneakers. This budget cleaning kit is a good option for new sneakerheads that can't or aren't ready yet to fully invest in high-end shoe cleaning products.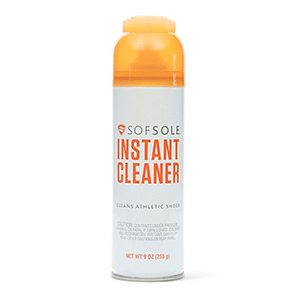 Key Features at a Glance
Foam solution for rapid dirt removal
Specifically made for athletic shoes
Dimensions and Specs
The Details
This is an affordable shoe cleaner and is intended to provide quick solutions. It produces foam quickly and can be wiped within a few minutes to save time and energy. With the Sof Sole Instant Cleaning Foam, a single 9 Oz. bottle spray can be used to clean athletic sneakers. After using the spray bottle, foam starts to build up around the shoe and it can easily be wiped off with a cloth. The foam produces good results with noticeable differences after usage. Sneakerheads can apply more foam to get rid of bigger stains and dust.
The Bottom Line
Unlike other products in the list that offer multiple items as a set or a package, the Sof Sole Instant Cleaner Foaming Stain Remover only needs a single spray bottle that produces foam and can effortlessly be wiped off with the use of any cloth. It's a great option for sneakerheads and even regular travelers who want to keep their shoes clean without any extra method like removing the laces and drying them off under the sun. It can also be considered an emergency shoe cleaner because of its quick and easy stain removal feature. However, if a full sneaker cleaning treatment is needed then a complete package that includes more items than just of a single spray bottle is a better option.
Conclusion: Best Sneaker Cleaning Kits
Just like sneakers, shoe cleaning kits primarily rely on effective marketing strategies before they actually prove their effectiveness out when finally used on sneakers. It takes certain words to convince people to purchase their product and it also takes a certain number of witnesses to truly say that their product works and works well on every shoe upper imaginable. When all is said and done, it's still better to find one that can really work on any sneaker before committing to one product. Some cleaning solutions may work well on some shoes while some may end up ruining a prized collection. It's still safer to check the label and product information rather than relying on the hype and just recklessly splash the entire cleaning solution on the shoe.