Buying Shoes Online
There are a lot of places to buy shoes online. Shoppers can get sneakers from an online store, a traditional shoe store, a department store, an auction website like eBay or even a shoe marketplace like GOAT and StockX. You can purchase the same sneaker from two different stores and end up with two very different experiences. Shoes are expensive and you want to find a pair that you can live with for a long time. So when purchasing shoes online you want to be sure of a few key things like that the store is reputable and that they have a good return policy. This guide is to help you avoid making mistakes when you buy shoes online.
Online Shoe Buying Guide
When you are shopping online and stumble upon a great pair of sneakers at a price that is too good to believe, stop and ask yourself why are those hard to find shoes you want available cheap at this store? Possible reasons include:
You got lucky. It happens. Congratulations!
The shoes have been previously worn and are being sold as new.
They were a floor sample at the local mall and tried on by lots of people.
The sneakers were a defect sold by the outlet store as damaged now packaged as new.
The shoes are fake and counterfeit now packaged as original and new.
Deadstock tip: A great giveaway for all of this is the condition of the shoebox. If the seller does not have a shoxbox or if the box is badly damaged then probably you are not looking at authentic deadstock. After all, how could the shoes have been carefully stored all this time if there isn't a box? Shoppers need to be careful when shopping and should ask themselves a few key questions about the seller and store. Old boxes in good condition sell on eBay for a premium so a good box does not guarantee a good shoe.
Can you return shoes purchased online?
Be sure to check what the store's policy is towards returns. What is the cost of returns? Do they even take returns? Shoes fit differently. All of our feet have a unique shape. You want to buy shoes at a store with a generous return policy. If you cannot purchase shoes from a store with a great return policy then try to find the shoe somewhere locally that you can try it on first. Even if it is a different colorway that doesn't matter because the fit will be the same across the line.
Are the shoes guaranteed to be new or just 'like new'?
True deadstock is a shoe that has never been worn. Often online you will find shoes that have been worn before and are masquerading as deadstock. Maybe they were the floor model and they are 'new' even though a hundred different people tried them on. As a shopper you don't want to be trying to parse an online picture of a shoe to see how bad it is scuffed up. It is easier and safer to just stay away from these situations.
Are the shows legit or could they be counterfeit sneakers?
Unfortunately the high end brand market has been inundated with fakes and counterfeits. The sneakers are no different with new and vintage shoes showing up that are well manufactured knock-offs. Buyers need to beware when shopping online and any shoe that is too good to be true probably is. Or maybe those shoes were made by Nike but they sent them to the outlet mall due to bad stitching and now you are paying a reseller 100% of the purchase price for them. Buyer beware online.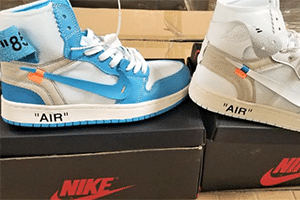 Recently customs intercepted a shipment of 15,000 fake high end Nikes. They were marked as napkins on the customs form but upon inspection agents discovered counterfeit Air Jordan 1 Off-White; Air Jordan 12; Air Jordan 1 in blue, black, red and white; Air Jordan 11 and Air Max '97. If they caught this shipment how many others got through? Look at the picture and tell me if you would be able to spot the difference because they look surprisingly legit to me.
Can you return shoes that you have worn?
Like most products, shoes and sneakers need to be returned to the store in the same condition that it was provided to you. If you expect a full refund or an exchange for a similar size the shoe should be unworn, undamaged, and in a box that is not torn. Obviously shoes that develop a defect over time after continued wear is a different matter and more about durability of the shoe.
Customers who might return shoes should try them on gently by unlacing them completely when taking them on and off. They also should only wear the shoes indoors while determining if the size and fit is proper. Wearing shoes outside and then returning them is super lame and if you do that the shoe gods should punish you with many L's on future hot drops.
With those guidelines in mind let's break down the main shoe marketplaces for buying and selling sneakers.
Manufacturers
Probably the best place to buy shoes online is directly from the manufacturer. Before venturing out into the retail market be sure that the shoes are not for sale direct. Often you will be surprised to find shoes available from the manufacturer's webstore and eliminating the middleman often makes for an easier process. Buying from the manufacturer helps you avoid markup and eliminates authenticity concerns.
Traditional Shoe Stores
The way it used to be is that we would go to shop for shoes at the mall and that was it. You would have to find a shoe from the stores there and you didn't have any other options. Sure you could walk from one side of the mall to the other and check out what each store had but often the inventory would not vary.
Nowadays each of the retailers works hard to build loyal customers and differentiate themselves from each other. This works to shoppers' advantage. This helps make sure that they get large inventory allocations of good shoes.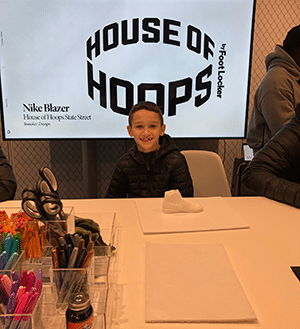 Retailers have a lot of market power (meaning they sell a lot of shoes). The retailers want to use those shoes to reward their most loyal customers and to make their stores a desirable place for shoppers and window shoppers to visit.
Enrolling in the loyalty program for these stores can do wonders. It also is helpful to visit the premium storefronts like the downtown locations in major metropolitan areas. Some of these stores have high-end brand locations like the House of Hoops imprint at Foot Locker. During NBA All Star Weekend we had luck at a House of Hoops where the kids got to design shoes with Philadelphia 76ers star Ben Simmons.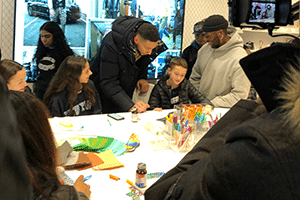 Discount Shoe Stores
The shoe industry has always relied on discount retailers to clear shelves and move old inventory to help make room for new shoes. These shoes are maybe being sold off-season because the stores will buy the unsold shoes in bulk from retailers shelves and sell them to you at a great price. It can be hard to find a great shoe here that isn't in a strange size, and buyers need to be cautious for quality control defects, but otherwise it is a good place to look for bargain bin and sale priced sneakers.
Niche Retailers
Niche retailers have also shown up on the scene and sort of belong in this same group. They traditionally have a small physical store footprint but an outsized social media game. These stores are experts at leveraging a couple pairs of hot shoes into 10k email registrations for a drop contest or raffle to win the shoes. Of course winning just means winning the right to pay for the shoes so it's hard to get ahead but it's easy to get on their mailing list.
Watch out when winning some of these raffles because the raffle winner is usually not guaranteed to be paying retail price. It is common for these niche retailers to significantly mark-up the price of desirable shoes. A lot of these stores are also selling a full line of streetwear gear instead of just focusing in on shoes. One of our favorites here in Chicago is Saint Alfred.
Department Stores
Big department stores like Bloomingdales or Nordstrom have traditionally been strong bastions of fashion and as sneakers go mainstream those stores have worked to increase the quality and quantity of their sneaker offerings. Still the selection can seem limited and the salesman are difficult because they would rather be selling you a pair of Hugo Boss loafers. Also, I have a ton of points and Friends and Family loyalty at those stores and none of it has ever helped me get shoes on a drop or anything. IDK maybe I am missing out if you know something I don't please let tell us in the comments below.
Online Shoes Stores
Zappos.com has a lot to offer online shoe shoppers. They skip the brick and mortar store and instead invest in their reputation and customer service. Zappos aims to be the best place to buy shoes online. They offer free shipping and free returns along with a flexible return policy. It is one of the best places to 'shoe shop' if you need to try on a few styles or sizes to find the perfect fit.
Amazon is popular because the shipping options are prompt. If you need shoes for the first day of school on Monday and it is Friday probably Amazon prime delivery is going to be your only online option. They also continue to work aggressively to expand their offerings and more manufacturers are starting to list shoes there directly. Amazon has a growing reputation as a great place to buy shoes online.
Shoe Marketplaces: Buy Shoes Online
StockX
The premiere marketplace to buy and sell shoes is currently StockX. This Detroit company has experienced fantastic growth the last few years and it is a testament to their unique business model and strong customer service. StockX is a marketplace meaning that they do not have any inventory of their own. Instead the company is just working to facilitate the matching of buyers and sellers by hosting a platform where they can exchange bids and complete transactions.
Sellers at Stockx enter the shoe that they want to sell and the amount of money they would require to part with the shoes. Sellers can set the price but buyers don't have to pay. Buyers can also just put up bids of how much they would be willing to pay and sellers can accept those bids at any time to process a transaction.
Once a bid and offer is accepted the Stockx platform seamlessly takes care of the rest. Buyers see a bill on their credit card and patiently wait for delivery. Sellers are sent a mailing label and given 48 hours to ship the shoes directly to Stockx. The company receives the shoes and verifies their authenticity and that they are new shoes deadstock. Once that verification is complete, they mail the shoes on to the buyer to complete the transaction.
Shoes on the platform can be a bit more expensive because the sneakers have to be shipped twice and the verification process has an attached fee. Still, the advantage for buyers is that it is an open market where shoes have a price and they can see what they have to put with confidence in what they will get.
Stockx does not accept scuffed, slightly worn, or like new shoes. They only sell new sneakers. This gives buyers a lot of peace of mind. When shoes are sent to the authenticators they can be rejected for any number of reasons. Only mint shoes are approved. Shoes do get rejected during this process which is a testament to the process actually working.
On the rare occasion they might have a borderline authentication issue, StockX will contact you over email or phone to see if you want to accept the sale or reject it. For instance, I bought a pair of Air Jordan 1 from them and they called to say the shoes were legit and new but the tongue of the shoe should be white and it had a bit of a pink hue. I rejected the shoe and they refunded 100% of my money.
Other times I have been notified that the shoe was rejected but that StockX would find me a replacement shoe for the same price. This has resulted in a slightly extended order time but they did provide the shoe and I imagine the company paid the difference between my bid and the ask of the shoe that they provided me with. That is great customer service.
One bummer about Stockx is that they do not promote a lot of loyalty programs for buyers. Their focus is more on cultivating sellers. I have bought a lot of shoes from the platform and never get anything like perks for that. A xmas card would be nice! I guess they put their stickers in the box. But you know what they do? They deliver. They don't send me shoes that have been worn slightly or that have scuffs. When it is borderline they reach out respectfully and say hey what do you think about this? It's not black and white you want them or pass? Overall StockX is a solid partner in the shoe game.
GOAT
GOAT is a lot like Stockx except they deal in used sneakers as well. This can making the shopping process a bit more complicated. The company does allow returns for up to 3-days and they have a good reputation for shipping products faster than StockX.
Both of these companies offer physical inspection that relies heavily on human inspectors but also leverages AI and image recognition to spot fakes. GOAT has estimated that up to 10% of the items listed on the site were identified as fakes and removes (which is sort of a good stat to promote but sort of not).
Part of the problem with GOAT and other online marketplaces is that they will advertise an awesome shoe at a great price but when you click on it to investigate the shoe is a size 26 or a size 2 ½ and you have to pay 3x the advertised price to get a normal size 10 ½.
eBay
Sometimes you can find what you are looking for cheap on eBay, but it is also really expensive because they have a lot of hooks in the water looking for dumb fish. Are you a dumb fish? If so just go to Stockx and pay the premium to not get ripped off. The savvy crooks at eBay are smarter than you. I promise. Now what is a good eBay buy? They happen. They just look a lot like the bad buys so you got to be smart. Maybe it's somebody who bought shoes for their girl and they broke up and now they need to dump them or they are custom shoes they can't return or something idk look for that I guess but otherwise be careful. Also I guarantee you no matter how nice the seller is that you will get a broken up box that is torn somewhere and you have to give it to Stockx as they must have excess boxes or something because their shoes always show up in a nice vintage box.
The problem you encounter with eBay is that the reputation of the marketplace is a composite of the individual sellers. Any one individual could be a bad apple and there are not a lot of incentives in place to deter them in the short term. For this reason, sneaker shoppers on eBay want to avoid the sellers who have only a few verified transactions. It is safer to deal with experienced eBay sellers who have transacted on the platform hundreds of times. These sellers will be much more motivated to rectify a problem and much less likely to be trying to pawn off a counterfeit or worn shoe.
eBay is aware of these problems and wants to earn more of your sneakers business so they have rolled out a sneaker verification program. This program aims to verify sneakers on the platform sold for over $100. The physical inspection of shoes by a third party is a critical step in the marketplace's effort to combat the counterfeit shoe game.
Shoe Apps
Snkrs – Stop. This is why you are getting your heart broken in the sneakers game. Do not try to buy shoes online using the Nike Snkrs app. You think the Snkrs app is a shoe store or shoe marketplace. It is neither of those things! It is a marketing tool. That app is a marketing device for Nike. It is one long interactive Nike commercial that preys on you like a casino. What is the difference between Nike Snkrs app and a casino or a lootbox? The app puts it in your cart and you play the game and roll the dice to see if the checkout goes through. What a rush! But at these odds what State would sanction the casino? 900:1 is the rumoured odds of winning a Snkrs shoe drop. Want to play craps or blackjack with the Nike casino? Go ahead. Good luck. The ante feels cheap but that's just because it is your time not your money.