The Nike Air Tech Challenge II tennis shoes are a Deadstock Investment Grade A rating. These sneakers are influential Nikes that helped move the brand past basic white shoes and into bright, exciting colorways.
Tinker Hatfield design
Iconic Hot Lava Colorway
Andre Agassi endorsement
White & Black Releases
Influential Nikes
Nike Air Tech Challenge II Deadstock
In the early years of sports superstardom it was the players in individual sports more than team sports players that attracted attention. Golfers, boxers, and tennis players existed in fans' eyes in a more singular manner, and that earned them some of the largest endorsements. Michael Jordan's agent David Falk notably worked to market MJ like a tennis player to get him his Nike deal.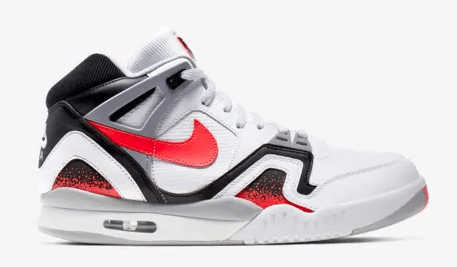 Nike Tennis
Nike had deals with tennis stars back in the 1990's and one of the biggest stars was Andre Agassi. Agassi was a rock star in the tennis world. He attracted attention because his loud outfits and lifestyle meshed with the traditional tennis settings. Tennis has a tremendous amount of decorum and at Wimbledon, for instance, the players traditionally are required to wear white.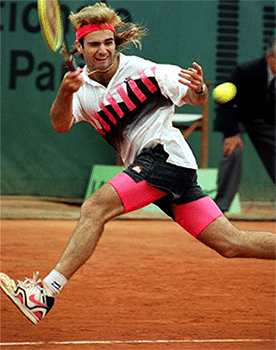 Agassi joined the Nike family in 1988 as a brash, loud 18 year old tennis phenom ready to rock the establishment.
Andre Agassi
As the Agassi star shined bright in 1990 the team at Nike HQ turned to Tinker Hatfield to design a tennis shoe that would match Agassi's unique aesthetic. In a world dominated by white low-tops, the team accomplished this primarily through a strong, bright colorway that splashed neon pink against the black background. The Air Tech Challenge II paired a synthetic leather upper with an external molded heel and mounted it all on a Nike Air cushioning system. The "Hot Lava" paint splatter accents gave them a brash style.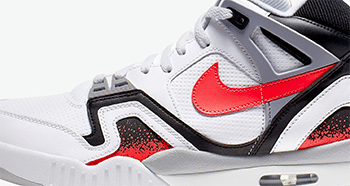 Hot Lava Colorway
Compared to modern colorways the Air Tech Challenge II can seem a bit placid and staid. At the time of release the shoes were groundbreakingly aggressive. At launch fans were shocked at the electric colors and design. The sharp colors of the Hot Lava colorway proved influential over time as shoes started to replace whites with brighter colors. The shoes have stayed influential, with the LeBron 16 introducing a Hot Lava colorway in both black and white. Vivid colors in today's top kids shoes owe thanks to the Air Tech Challenge II.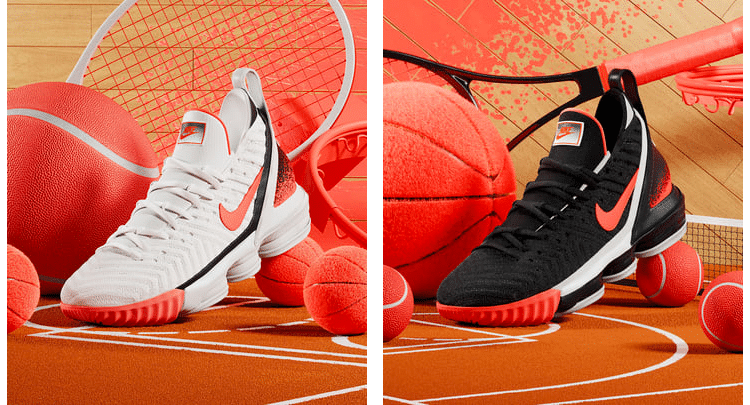 ReRelease
Nike rereleased the Air Tech Challenge II in 2019. A classic white retro version and a new black version of the shoe dropped. The shoe proved popular again but was not a sell out on release. It had a retail price of $130 and was available as an easy get in a number of sizes.
Deadstock Investment: Nike Air Tech Challenge II
Considering the original design from Tinker Hatfield and the influential Hot Lava colorway, the Nike Air Tech Challenge II has good investment potential as a deadstock shoe. This shoe has an influential place in sneaker history and its iconic colorway is unlikely to disappear from new shoes anytime soon. This is one tennis shoe with crossover appeal and something sneakerheads might store away as a good deadstock investment. The Air Tech Challenge II from Nike gets our Deadstock Investment Grade A.